How to Download Disney Plus Movies and TV Shows to Watch Offline?
Disney Plus is quickly becoming one of the most popular streaming services in existence. Like Netflix, Prime Video, Hulu, and other streaming services, Disney Plus has a download function that gives its ad-free subscribers access to unlimited downloads of movies and shows from Disney, Pixar, Marvel, Star Wars, and National Geographic. Once downloaded, subscribers can watch on the go and without an internet connection.
At the same time, what's unique about Disney Plus compared to other streaming services is that it doesn't apply a limit to how much you download. If there is enough storage on your mobile device, you can download as many titles as you want. Besides, you can watch the downloads on up to 10 mobile or tablet devices, with no constraints on the number of times to watch the downloaded titles. Here we will show you how to download movies and TV shows from Disney Plus to watch offline in two ways.
1. How to Download Movies and TV Shows on the Disney Plus App?
Step 1Install the Disney app on your mobile or tablet device. Launch the app and log in with your Disney Plus account.
Step 2Tap the Home tab to browse a video or tap the magnifying glass icon to find the content you want.
Step 3After selecting a movie or TV show that you want to download, click the "Download" icon to start downloading it. If you are going to download the entire season of a TV show, tap the "Download Season" option. To download a single episode, just press the "Download" icon to the far right of the episode title.
Step 4Once downloaded, tap the "Download" icon at the bottom of the app screen. Here you will see all titles you have downloaded. And now you can enjoy those videos offline at any time.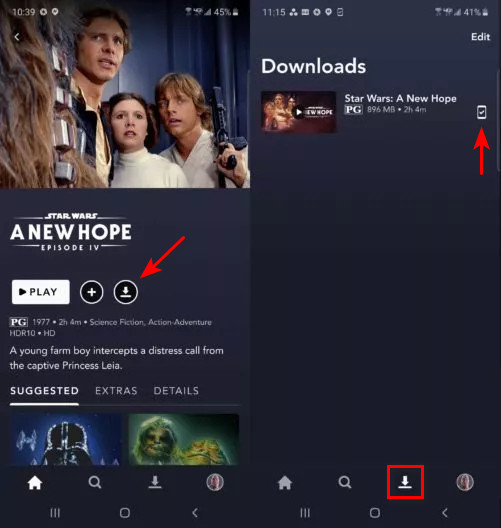 However, Disney Plus only allows you to download videos on mobile devices with the Disney Plus app. Therefore, you will miss the download features of the service on the computer. Does it mean there is no way to achieve it? Of course not. DispCam is born to help you download Disney Plus movies and TV shows on Windows PC and Mac, without installing the Disney Plus app.
What is DispCam?
A professional tool that can help you download movies and TV shows from Disney+, and enjoy the content offline at any time.

Learn more about DispCam >>
DispCam is a fast and full-featured Disney+ video downloader that aims to help users download high-quality movies and TV shows from Disney+ on the computer. Armed with a convenient built-in browser and advanced information analysis technology, DispCam is good at downloading videos quickly. What's more, it has the ability to download Disney+ videos in MP4 or MKV format with multi-language audio tracks and subtitles kept. With this professional tool, you can easily download Disney+ content on your computer to watch offline at any time.
Now we will show you how to use DispCam to download movies and TV shows from Disney Plus so that you can watch them offline on any device. Please install DispCam on your computer and follow the below steps.
2. How to Use DispCam to Download Disney Plus Content to Watch Offline?
Step 1 Sign in to Disney+
Launch DispCam and click the "LOG IN" button in the upper right corner. DispCam will ask you to log in to Disney+. Please enter your account and password in the pop-up window.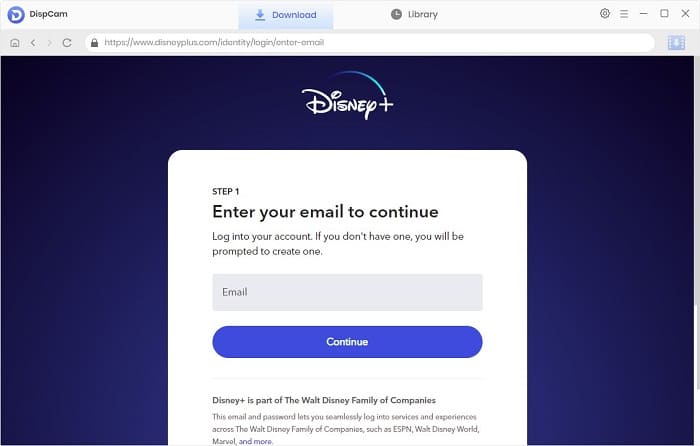 Step 2 Customize the Output Settings
Click the "Settings" icon on the upper right corner of the program. You could set the output format (MP4 or MKV) and video quality (High, Medium, Low), and choose the language of audio tracks and subtitles, etc. In addition, DispCam offers hardware acceleration support, which you can set in the "Advanced" tab.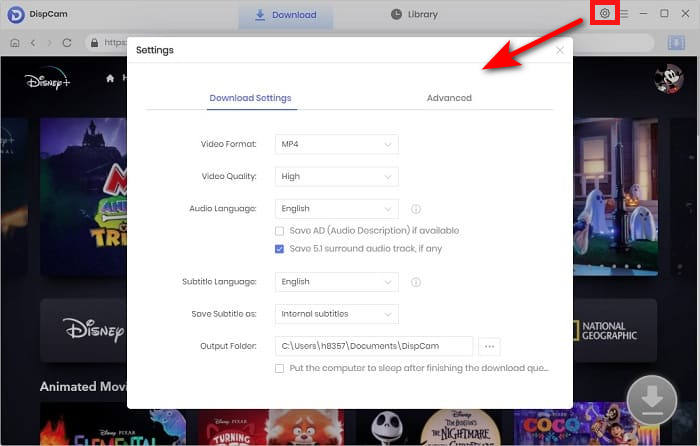 Step 3 Search for Disney+ Content
Directly enter the video name into the search box. DispCam will search for the content and list out all the related videos. Select a specific video and open its details page to make the "Download" icon in the lower right corner available.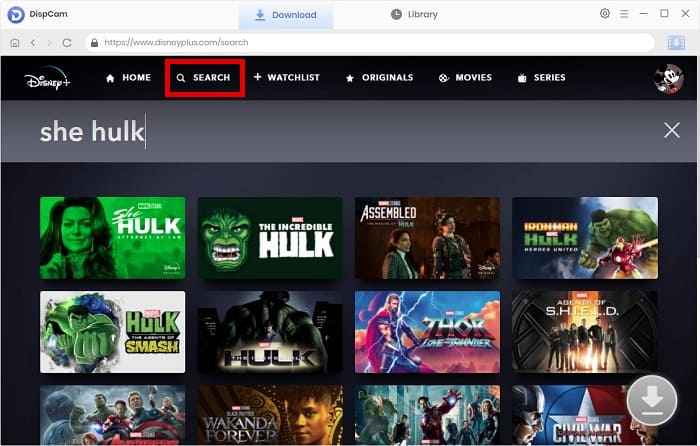 Step 4 Select Specific Video Quality, Audio Track, and Subtitles
If you are trying to download a movie, click the "Download" icon, and set the specific video quality, audio track, and subtitle. If you try to download a TV show, click the "Download" icon, and then a window will pop up allowing you to select episodes. And you will find the "Advanced Download" button at the bottom left of the window.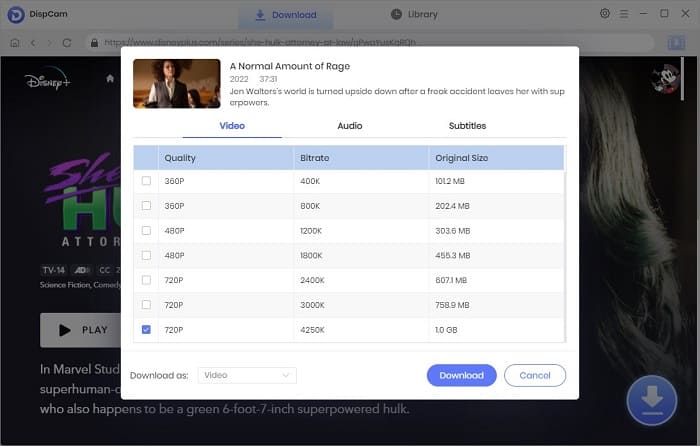 Step 5. Start Downloading Videos
Click the "Download" button to start downloading the selected videos to your computer. Once the videos are downloaded, check the download history by clicking the "Library" tab.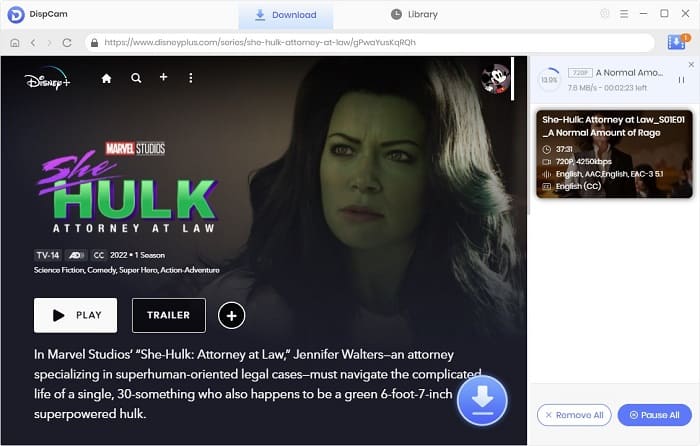 Conclusion
Downloading Disney+ videos on your devices can not only save your data traffic but also ensure that you can watch the videos smoothly when the internet is poor. This article not only introduces how to download Disney+ videos on mobile devices using the Disney+ app but also shows a way to download movies and TV shows from Disney+ to the computer by using a powerful program - DispCam. Just follow this guide step by step, and you can play Disney+ video offline without limitations.
Note: The free trial version of DispCam allows you to download the first five minutes of each video. To download the full video, you may need to subscribe to DispCam to unlock the limitation.
---