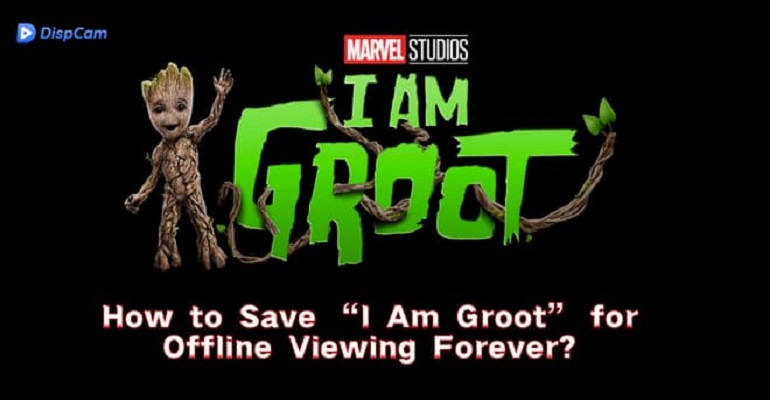 How to Save "I Am Groot" for Offline Viewing Forever?
"I Am Groot" is now available on Disney Plus, a collection of five short films that tell different stories about everyone's favorite Guardian of the Galaxy. And each episode of "I Am Groot" is brilliantly entertaining, and it's worth watching for a good laugh as this adventurer gets into mischief. Some of you perhaps want to ask if it is possible to download and save "I Am Groot" for future offline viewing. Most people will probably tell you that you can continue your Disney Plus subscription to keep it. However, this is not a wise decision because "I Am Groot" may not be available on Disney Plus someday.
Luckily, we will tell you a new way to help you save "I Am Groot" for offline viewing forever. You just need a little help from DipsCam, which can download "I Am Groot" or any other Disney Plus videos from the official website to your devices. Once "I Am Groot" is downloaded by DispCam, it will never expire! Let's see how it works for you together.
What's DispCam?
A professional tool that can help you download movies and TV shows from Disney+, and enjoy the content offline at any time.

Learn more about DispCam >>
DispCam is a proficient Disney Plus video downloader designed to download any Disney+ content in HD quality from the official website. It has an easy-to-use interface, allowing you to easily find the wanted Disney+ videos by titles or URLs and download them in MP4 or MKV format. Plus, both H.264 and H.265 are supported on DispCam. Furthermore, DispCam can download videos in batches, which means you can download one season of TV shows at a time, and the download speed is much faster than other programs since it supports hardware acceleration. Since the related information about the videos is saved as well, you can easily manage them.
DispCam also allows you to save multilingual audio tracks and subtitles. Besides, DispCam offers three kinds of subtitles, which are "Internal Subtitles", "External Subtitle", and "Hardcode Subtitles". And subtitle files can be stored separately as SRT files.
Guide: Download and Save "I Am Groot" Forever with DispCam
First of all, please make sure you have downloaded and installed the latest version of DispCam on your computer.
Step 1. Sign in to Disney Plus
Launch the program and type any word into the search bar. When you press the "Enter" key on your keyboard, you will be prompted to sign in to your Disney Plus account.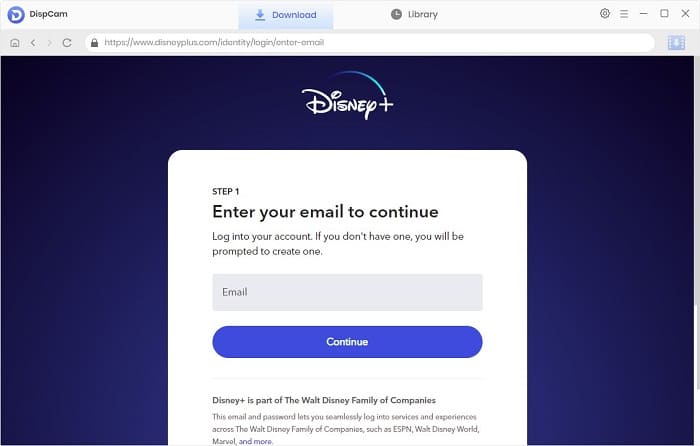 Step 2. Customize the Output Settings
Click the "Settings" icon in the upper right corner of the screen to open the settings window, where you can select the video format, video quality, audio, and subtitle language, and also in which way to save the subtitle files.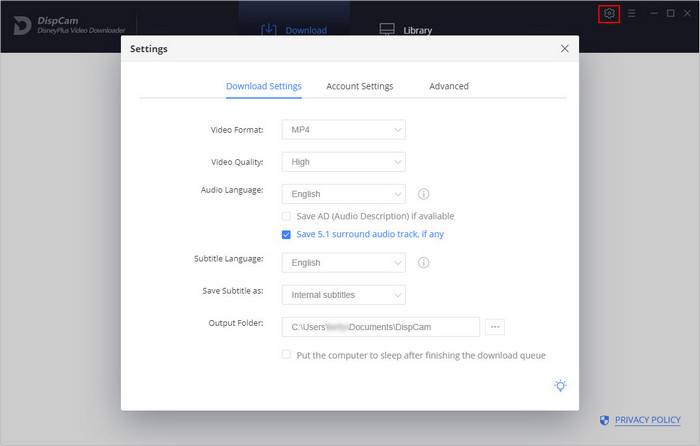 Step 3. Find the Video "I Am Groot"
DispCam has a smart search function, which will quickly search for the desired video by title or URL and display them below the search box. Here you can either key in "I Am Groot" or copy the link from the Disney Plus website and paste it into the search box on DispCam. The search result will be listed shortly.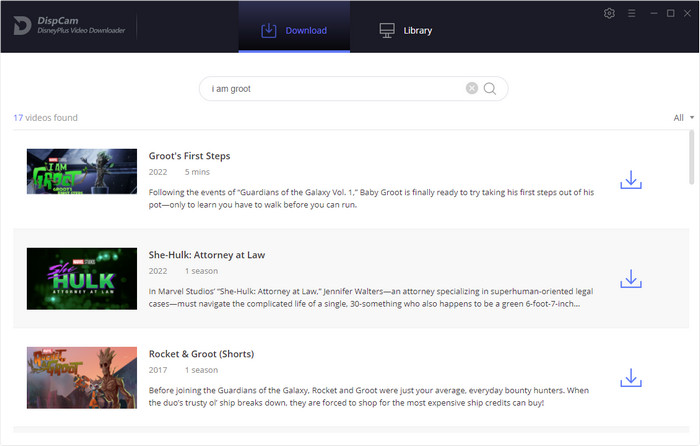 Step 4. Choose the Advanced Download Settings
To set the Advanced Download settings for "I Am Groot", please click the Download icon and then select the title from the pop-up window. The Advanced Download button will appear on the bottom left of the window to let you choose more specific options for the video quality, audio tracks, and subtitles.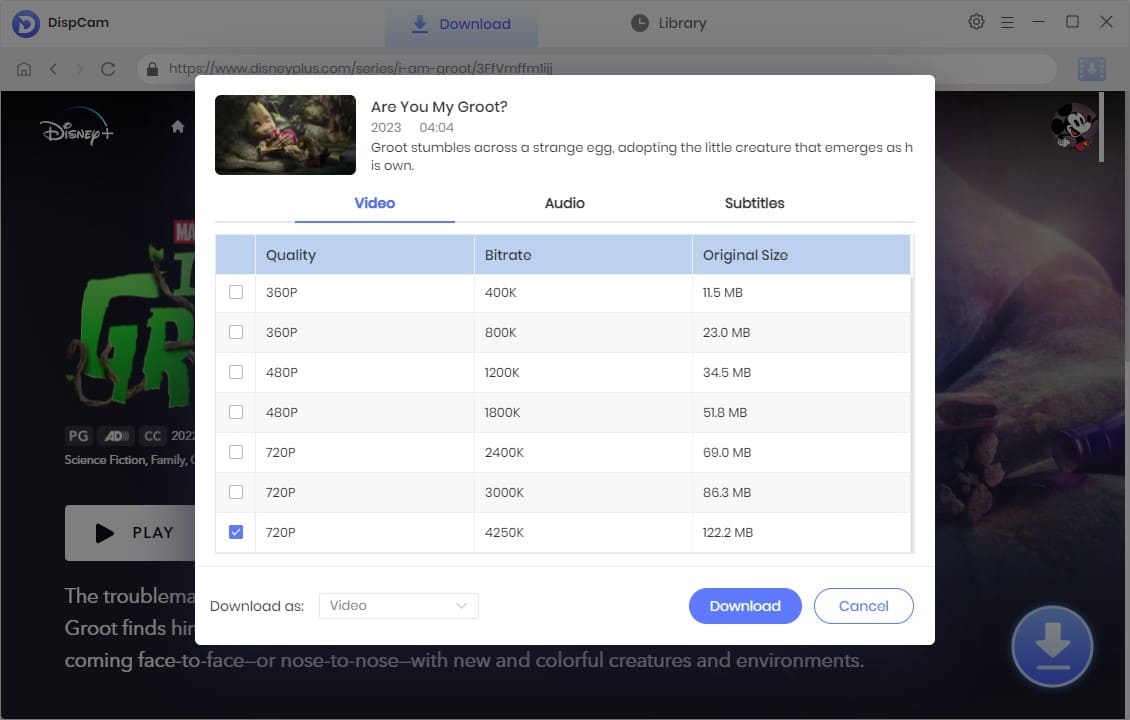 Step 5. Download "I Am Groot" for Offline Viewing Forever
After you've chosen the advanced download options, you simply need to click the Download button to begin downloading "I Am Groot" to your computer. And the only thing left to do is wait.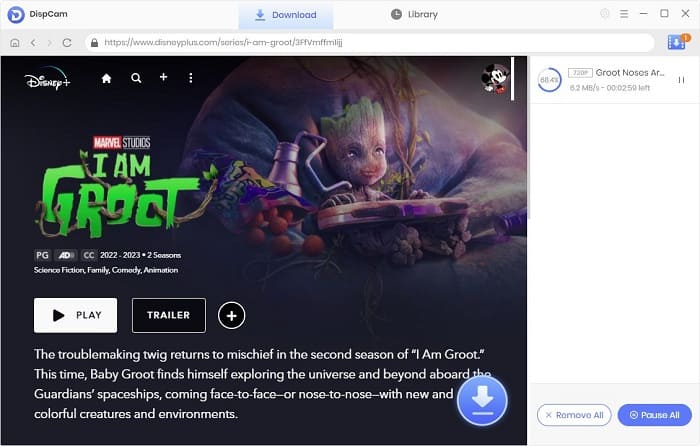 After downloading, go to the "Library" tab, here you can find the record of "I Am Groot". Then "I Am Groot" is saved on your device, and you can watch it forever.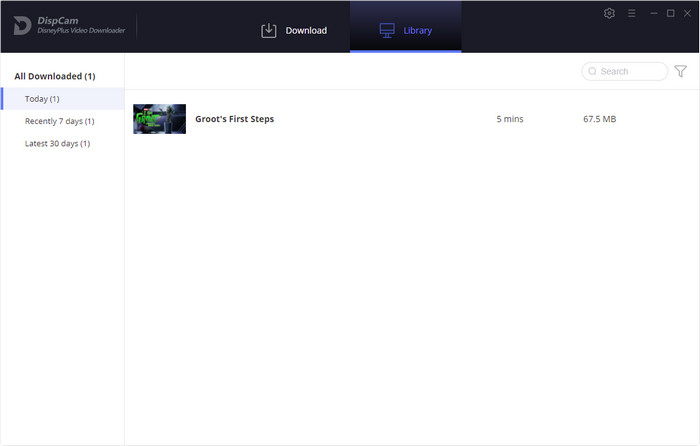 Conclusion
"I Am Groot" is a great show, which deserves watching repeatedly. If you use the Disney Plus app to download "I Am Groot", hoping that you can watch it forever, that is really out of your control. However, if you use DispCam to save "I Am Groot", you will never be disappointed as the videos downloaded by DispCam can be saved on your device forever, which means you can watch them anytime without worrying that they will be not accessible.
Note: The free trial version of DispCam allows you to download the first five minutes of each video. To download the full video, you may need to subscribe to DispCam to unlock the limitation.
---