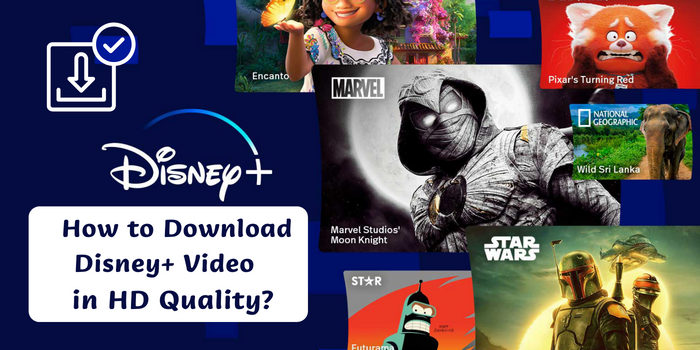 How to Download Disney+ Video in HD Quality?
Disney Plus brings us exclusive Disney+ and Star Originals from which you can always find some interesting videos, including a growing selection of diversified Asian content. What's more important is that Disney+ also delivers a high-quality streaming experience for all the stories you love. And as we learn more about Disney+, we will know that Disney+ supports two basic video resolutions: HD (high-definition) and SD (a shorthand for "standard definition"). Disney+ will detect your system's capabilities and automatically stream in the best video format your device supports. If you want to watch Disney+ videos when your internet connection is not that good, Disney+ also lets you download its content for offline viewing.
However, the download feature is only available on the app for mobile devices. Still, Disney Plus also won't let you download videos in HD quality when you have a mobile device running an old iOS or Android version. And Disney Plus videos cannot be downloaded to computers, not to mention downloaded in HD quality. In such a circumstance, you may find those restrictions quite annoying. Someone may wonder if there is a way to download Disney+ videos to your computer in HD quality.
Of course, there is. With DispCam, it will be a piece of cake for you. We will introduce you to this amazing software tool in detail. Having it, you don't have to worry about anything about downloading Disney+ movies and TV shows.
The Best Solution: DispCam
A professional tool that can help you download movies and TV shows from Disney+, and enjoy the content offline at any time.

Learn more about DispCam >>
The magic tool we are talking about here is DispCam, which works on both Mac and Windows PC. It aims at downloading movies and TV shows from Disney Plus with high resolution. And the program has a built-in search engine, which lets you find the wanted videos from the Disney Plus web player by the titles or URLs. DispCam also provides unique features that allow you to save Disney Plus videos on your computer forever in MP4 or MKV format and retain audio tracks and subtitles in multiple languages. Moreover, DispCam offers an "Advanced Download" function to let you personalize your downloading settings.
You can select two different video codecs as well, which are H.264 and H.265. With the related information about the videos saved, you can easily manage them even if you have downloaded a massive amount of Disney Plus videos. Having DispCam installed on your computer, you can save any videos from Disney Plus on your computers or transfer them to other devices without any limit. The following is a detailed tutorial on how to download Disney Plus videos in HD quality with DispCam.
Download Disney Plus Video in HD Quality to PC with DispCam
To start with, please make sure that you have downloaded and installed the newest version of DispCam on your computer.
Step 1. Log in to Disney+ on DispCam with Your Disney+ Account
Run DispCam and enter any word in the search bar, you will see the sign-in window shortly. Please sign in with your Disney+ account. And you don't have to worry that your passwords will be leaked. And you can also type in the name of the video you want to download directly in this step.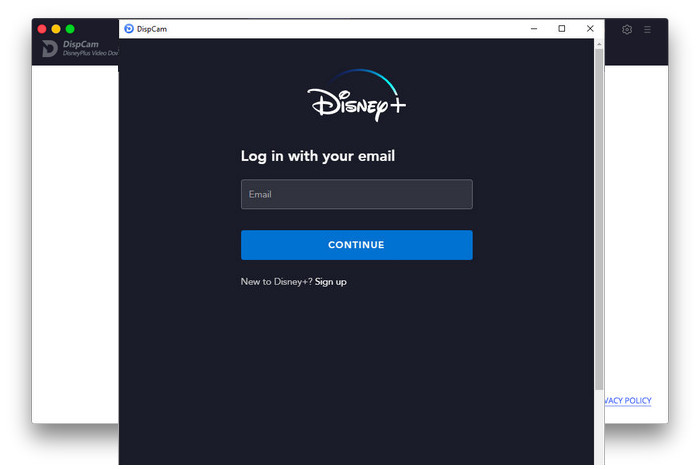 Step 2. Choose the Output Settings
After logging in to your Disney+ account, please don't be in a hurry to download videos. Please click the "Settings" button in the upper right corner of the program to choose the video format, video quality, the language of audio and subtitles, and others in the "Download Settings" tab. In addition, the download process will be faster if the "hardware acceleration" is checked, you can set it in the "Advanced" tab.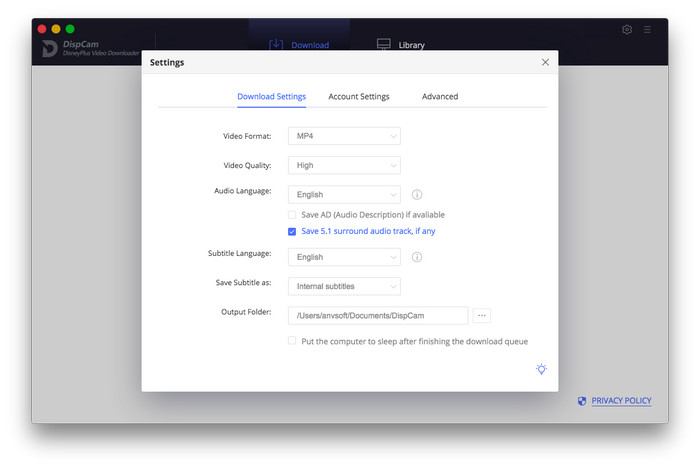 Step 3. Search for Disney Plus Video
If you inserted the title of the wanted videos in step one, the searching result will be displayed automatically now without re-entering anything.
If you didn't, directly enter the video's name or copy and paste the URL from the Disney Plus web player to DispCam, then click the magnifying glass icon. if you enter the keywords of a video, you will get some related movies or shows and need to browse and find the one you want. When entering the URL of a video, DispCam will quickly identify and locate the video for you.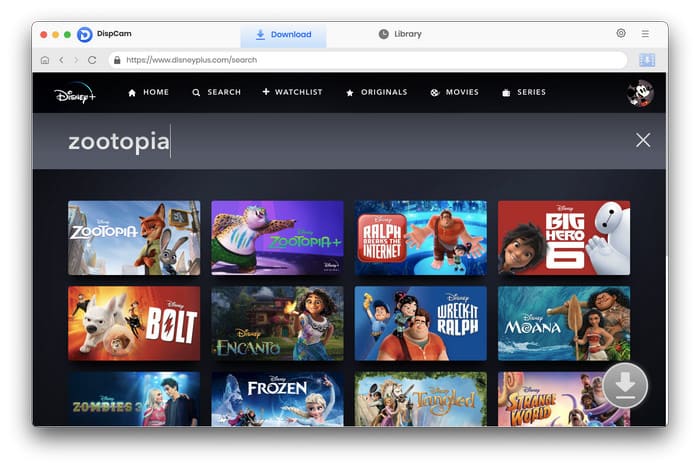 Step 4. Choose the Advanced Download Settings
In the advanced download settings, you can select a specific audio track and subtitle file as your need and choose the video quality up to 720p. This option appears on the right of the "Download" icon when you are trying to download a movie. If you want to download a TV show, click the "Download" icon and select the episodes that you want to download from the pop-up window, then you will see the "Advanced Download" button at the bottom left of the window. Here you can choose the video quality as 720p in the "Video".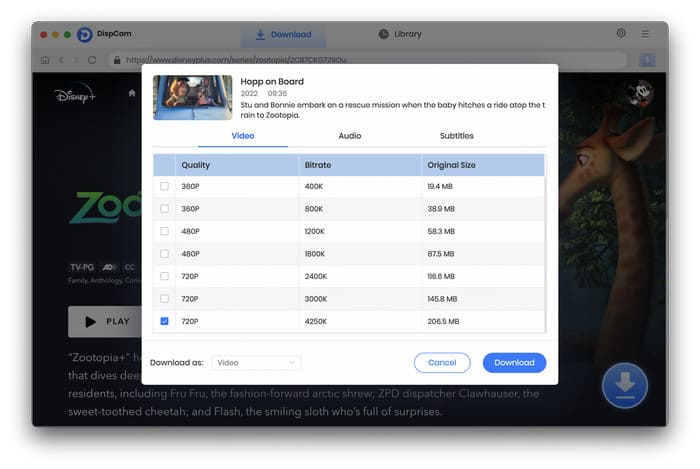 Step 5. Start Downloading Disney Plus Video in HD Quality
Click the "Download" button, and DispCam will start downloading the selected videos one by one. You will get Disney Plus videos in HD quality soon. During waiting, you can also add some other videos that you are interested into the downloading list.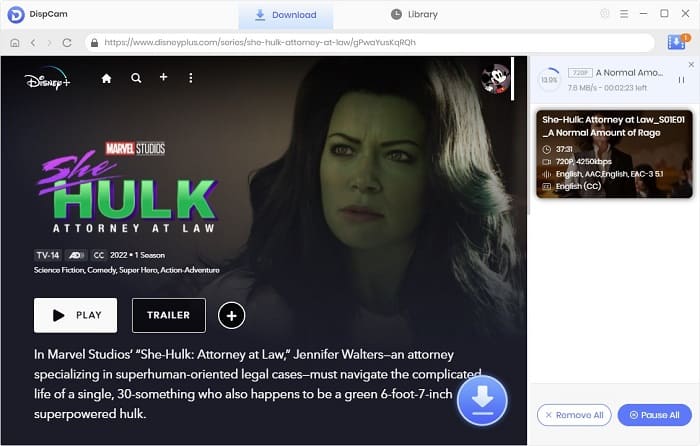 Step 6. Find the Downloaded Videos on Your Computer
Once all videos are downloaded, click the "Library" tab to check the download history. Click the "Folder" icon at the end of each video to open the output folder where the videos are saved. This indicates that you can transfer the downloads to any other device from your computer as now you already have them stored in your computer but not the streaming service applications.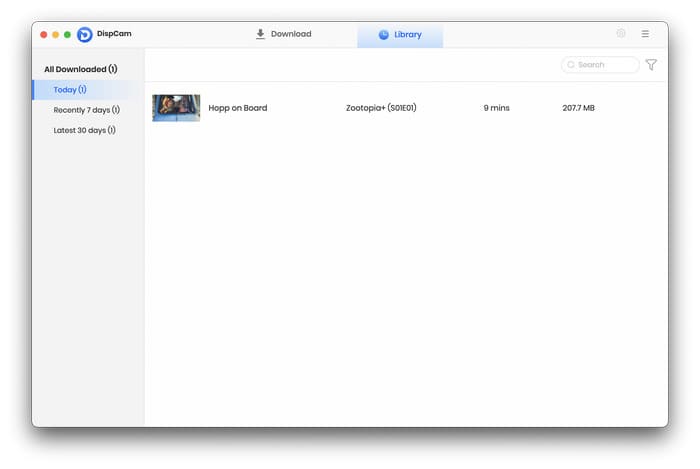 Conclusion
It's good to be able to stream Disney+ content online, but downloading them in HD quality for offline viewing is of the same importance. Disney+ won't let you do this on your computer, but DispCam will make it possible. After reading this article, you must get a sweet taste of this handy tool--DispCam. Precisely, with the assistance of DispCam, you are allowed to download any Disney+ video you want in 720p if they support it. And then you can watch the downloaded videos with joy anytime and anywhere. Just download the free trial version to have a try! You will not regret doing this.
Note: The free trial version of DispCam allows you to download the first five minutes of each video. To download the full video, you may need to subscribe to DispCam to unlock the limitation.
---