How to Watch "Pinocchio" on Disney Plus?
---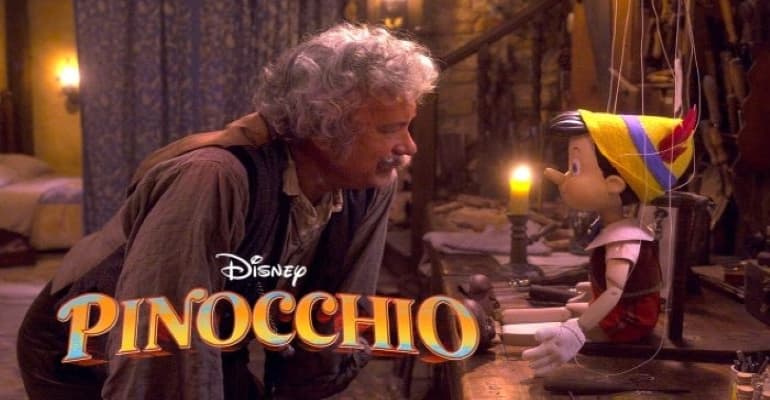 Disney+'s latest live-action movie "Pinocchio" has released on Thursday, September 8, as part of Disney's celebrations for Disney+ Day. It exclusively debuted on Disney+ and is free to stream for all Disney+ subscribers. If you do not yet have a Disney+ account, it is the best time to subscribe to the service at the most affordable price as Disney offers 1 month of Disney+ for only $1.99. The offer is valid until 11:59 PM PT on September 19. After that, it will revert to $7.99 per month.
If you missed the deal in celebration of Disney+ Day and have subscribed to the service for $7.99 a month, don't feel bad, we will show you a more economical way to watch "Pinocchio" or videos on Disney+. Using a third-party tool to download Disney+ movies and TV shows for offline viewing saves not only data but your monthly subscription cost. DispCam is what you need. It can download any movie or shows from Disney+ and support you in watching the downloads on any device. The following content will show you how this amazing tool works.
What is DispCam?
Highly-efficient application for downloading Disney Plus videos in MP4 and MKV format.

Learn more about DispCam >>
DispCam is the best Disney Plus video downloader, specially designed to download HD Disney Plus movies and shows in MP4 or MKV format, making the downloaded videos playable without any limit. Plus, it can download any Disney+ video at high speed with multiple audios and subtitles kept.
With DispCam, you can choose three types of subtitles: Internal, External, and Hardcode subtitles. SRT files are also supported on DispCam. Moreover, you can choose different video codecs: H.264 and H.265. Once Disney Plus videos are downloaded by DispCam, they will never expire. Besides that, you can move them to any other device for watching and share them with all your friends and families. There are many more useful functions of DispCam, and you can try them out yourself.
Guide: Download "Pinocchio" from Disney+ to the Computer
Before we get started, please make sure you have installed the latest version of DispCam.
Step 1. Sign in to Disney Plus
Launch DispCam, type any word in the search bar and press the "Enter" button on the keyboard. A sign-in window will pop up asking you to log in to Disney Plus.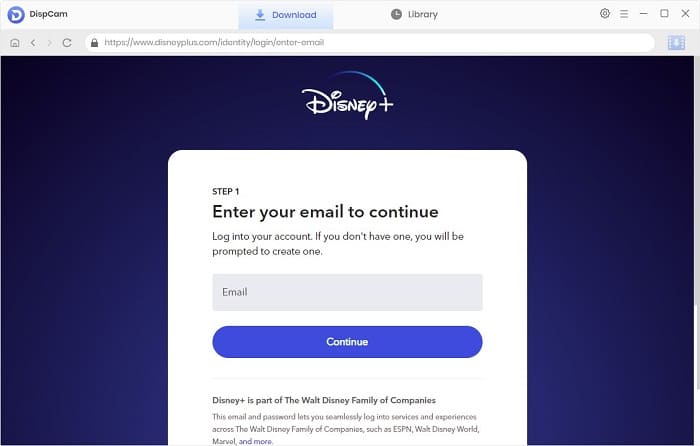 Step 2. Choose the General Settings
Click the gear icon on the top right corner of the screen and go to the settings window. Here you are allowed to set the video format, video quality, the language of audio tracks and subtitles, and choose to save subtitle files in different codec modes. You can also set the output path, video codecs, etc.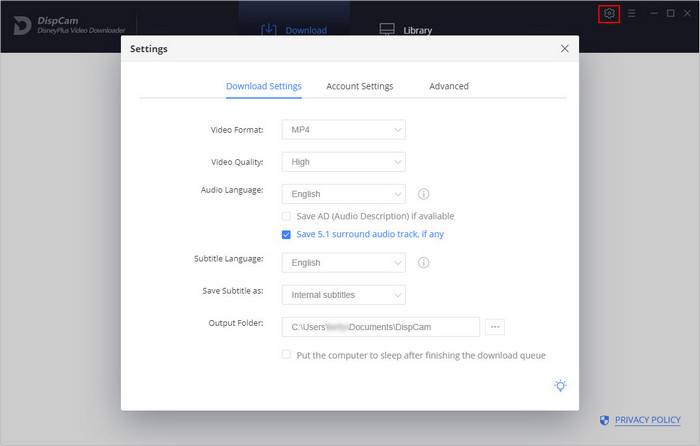 Step 3. Search for "Pinocchio"
Directly key in "Pinocchio" into the search bar. DispCam will show you the results below the search bar. If you want to review the animated version of "Pinocchio", you are also allowed to download it as you can see it is listed under the 2022 version.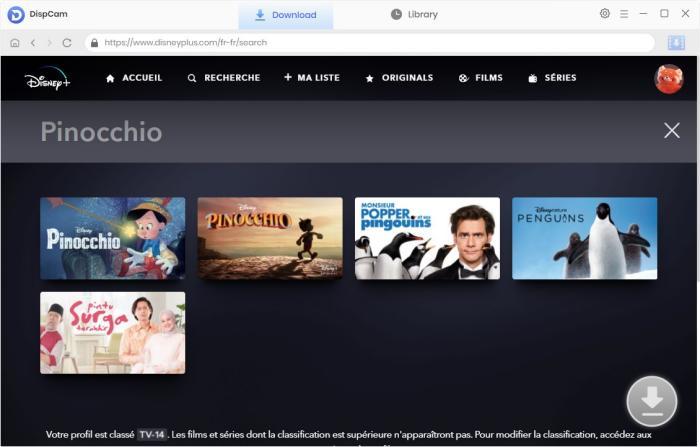 Step 4. Choose the Advanced Settings
DispCam offers the option to choose the advanced settings for "Pinocchio". Simply click the Advanced Download icon which is next to the Download icon, then you can choose the video quality with different sizes and select audio tracks and subtitles in different languages and formats.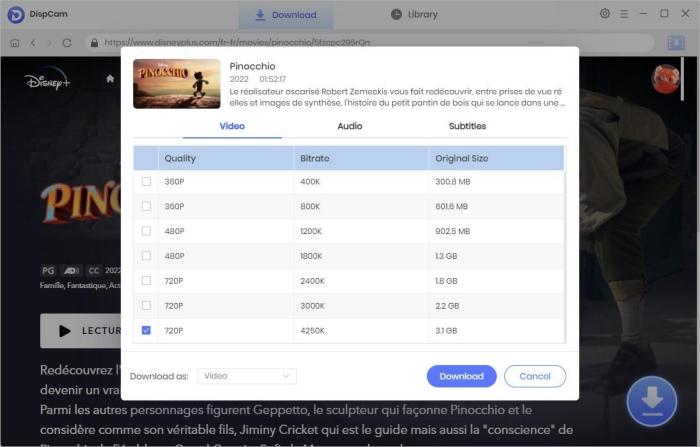 Step 5. Start Downloading "Pinocchio"
Now you just need to click the Download button to start downloading "Pinocchio".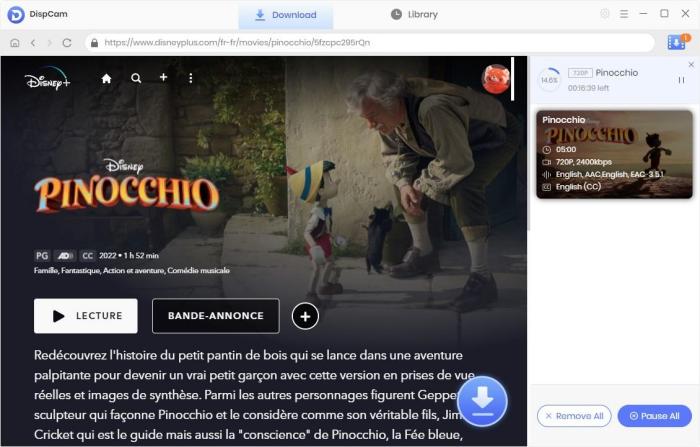 Step 6. Find "Pinocchio" to Play
After downloading, you can find "Pinocchio" in the Library tab. Now you successfully keep "Pinocchio" on your own device, and it will be always playable even if your subscription expired.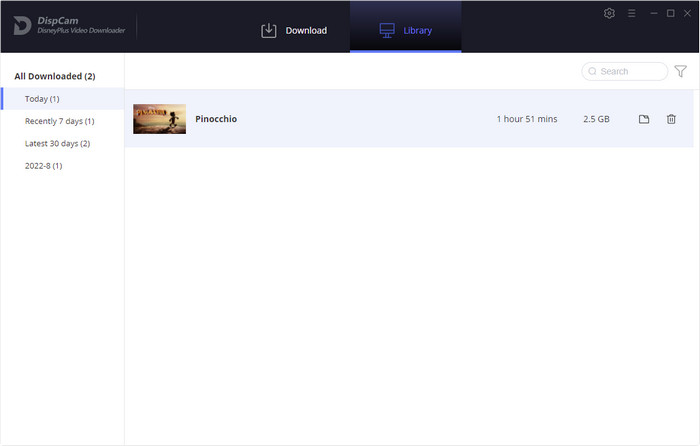 Conclusion
Apart from "Pinocchio", Disney released many titles during the Disney+ Day, such as The Simpsons short film Welcome to the Club, Marvel Studios Assembled: The Making of Thor: Love and Thunder, and more. Additionally, there are a large number of videos you can stream on Disney+ after signing up for it. You cannot watch all your favorite videos in a short, and even some of them will leave the platform before you watch them. Therefore, it's better to download those videos forever with DispCam. It can help you download any movie and show from Disney+ and keep them forever on your device.
Note: The free trial version of DispCam allows you to download the first five minutes of each video. To download the full video, you may need to subscribe to DispCam to unlock the limitation.