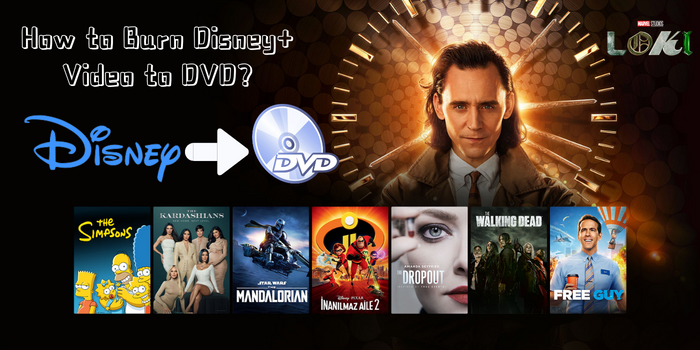 How to Burn Disney+ Video to DVD?
Disney Plus is one of the most popular streaming services, despite being relatively young on the market. As well as streaming Disney+ rich content online, Disney+ also lets you download movies and TV shows to your device for offline viewing.
It is true that streaming Disney+ videos online or downloading them for offline viewing on Disney+ meets your need partly for everyday leisure enjoyment. However, they both have their own flaws and drawbacks as well. If you love some specific Disney+ videos, you can only view them with an internet connection when you are a paid subscriber. Once your subscription expired or you log in to the service on a new device, all the downloaded videos are no longer available to you. That is to say, there is no easy way to play Disney+ videos offline on different devices. Some people who prefer old fashion may ask: is it possible to burn Disney+ videos to a DVD so that you can save them forever and always have offline access to view the videos on any device?
Surely, it is 100% possible as long as you have DispCam installed on your computers, which is a perfectly powerful and highly compatible video downloader. In the following, you will learn the detailed guide on how to use DispCam to download Disney+ and burn the videos to a DVD. And you can start doing it even today. Why not go on reading to see the magic yourself?
What is DispCam?
A professional tool that can help you download movies and TV shows from Disney+, and enjoy the content offline at any time.

Learn more about DispCam >>
DispCam is the best Disney+ video downloader, which comes with high device compatibility that it is available on both Windows 11/10/8/8.1/7 and Mac OS 10.15 or above. You can easily find the videos you want to download by their names or URLs. With DispCam, you can download and save unlimited movies and TV shows in MP4 or MKV format with multi-language audio tracks and subtitles kept. You are also allowed to choose three different subtitle modes: Internal subtitles, External subtitles, Hardcode subtitles, and two video codecs: H.264 and H.265. Besides, you don't need to worry about the getting-start with our program as it offers a multi-language interface and user-friendly guides.
Once the videos are downloaded, you can manage them easily as DispCam saves all the related information about the videos. Plus, you can move the downloaded videos to players like VLC and WMP for playback. What is the best about DispCam is that you can burn the downloads to DVD without limits. The following part will show you how to use DispCam to download videos from Disney Plus and then burn them to a DVD.
Guide: Download Disney+ Video with DispCam and Burn Them to DVD
To start with, please make sure that you have downloaded and installed the latest DispCam on your computer.
Step 1. Log into Your Disney Plus Account on DispCam
Here you will still need a Disney Plus account. Run DispCam on your computer and type any word in the search bar, then hit "Enter" on the keyboard. A pop-up window will appear and ask you to log in to Disney+. You can also directly key in the name of the video you want to download in this step.
Warm note: DispCam doesn't support Hotstar accounts, and please make sure you don't use a Kid Profile to log in.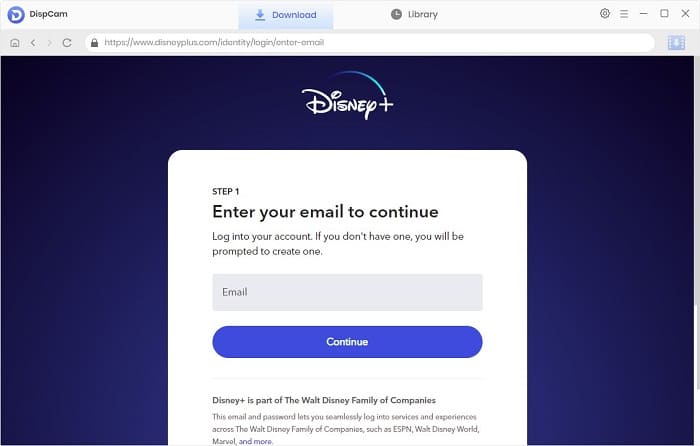 Step 2. Choose the General Settings for the Output Videos
Clicking the "Settings" button in the upper right corner to open the settings window, here you can set the video quality, video format, the language of audios and subtitles, and so on. If you click "Advanced", you can choose different video codecs, proxies, etc.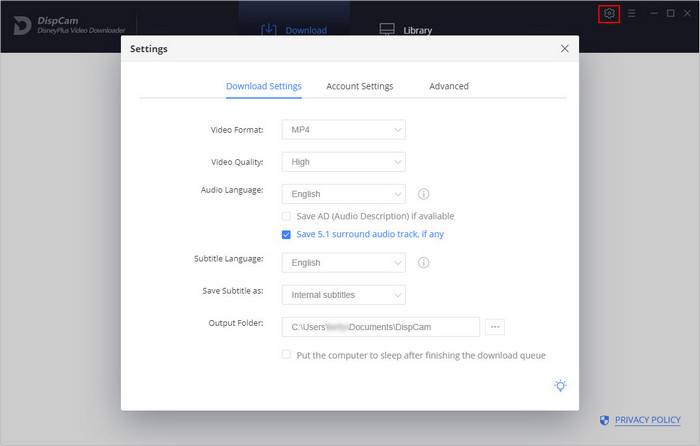 Step 3. Search for Wanted Disney Plus Titles
If you entered a random word at the beginning, here you need to enter the name of the video that you want to download or copy and paste the URL from the web player into DispCam. The program will search for the video quickly. If you keyed in the name before, the search result will display automatically here.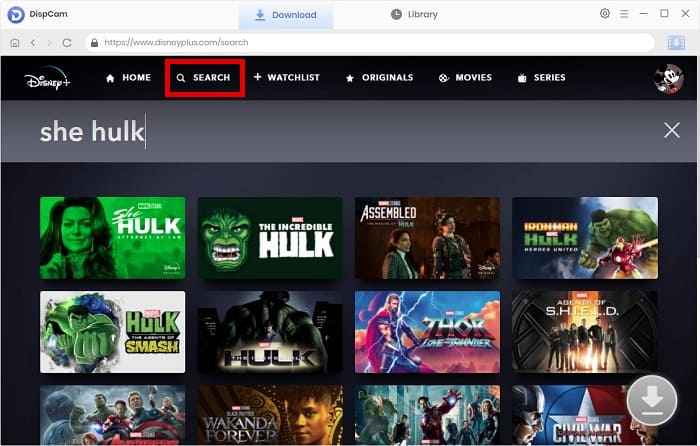 Step 4. Choose the Advanced Download Settings
If you want a movie to be downloaded, click the icon next to the "Download" icon to open the advanced download settings. Here you can select the video quality, audio tracks, and subtitles based on the bitrates and file sizes.
For a TV show, click the "Download" icon and select the season and the episodes that you want to download in the pop-up window, then click the "Advanced Download" button at the bottom left of the window.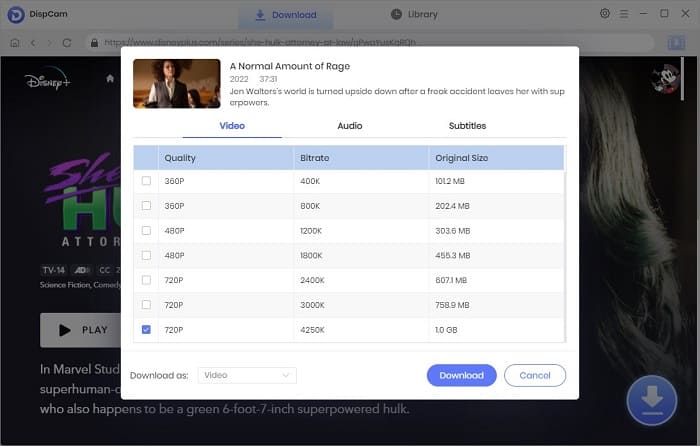 Step 5. Download Disney Plus Video on PC
Click the "Download" button to start downloading the selected videos on your computer. During waiting, you can put other videos on the downloading list as well.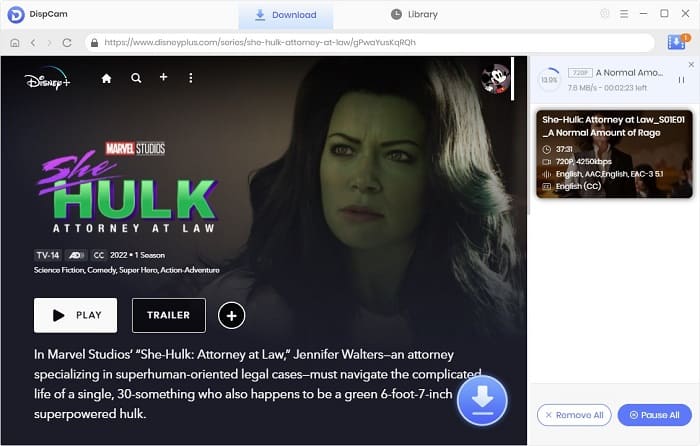 Step 6. Burn the Downloaded Videos to DVD
Now you can burn the downloaded videos from your computer to DVD easily. After downloading, go to the "Library" tab, and click the "Folder" icon to find the output files on your computer. Insert a blank DVD to your computer's CD/DVD drive, and copy the video files to the DVD folder. And then you are all set!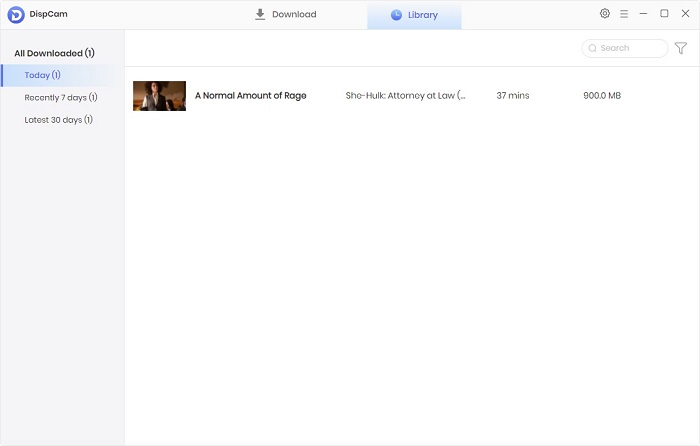 Conclusion
All in all, this article gets you through the detailed steps about how to use DispCam to download all the great content that Disney Plus offers and then burn them to DVD for a better viewing experience. In fact, with all the videos downloaded in MP4 or MKV format by DispCam, you can move them to any device that you want for offline viewing. Whether you want to play the downloads on your big TV at home or on your phone during your commute, DispCam can help you achieve them both. DispCam can do much more for you, but you have to find it out yourself!
Note: The free trial version of DispCam allows you to download the first five minutes of each video. To download the full video, you may need to subscribe to DispCam to unlock the limitation.
---