[2023 Latest] How to Watch Disney Plus Video Offline on Mac?
As known, Disney+ offers a download feature for its members to stream offline. The download function is available on mobile devices. Simply download its app, and you can watch your favorite content offline. Obviously, Mac and Windows computers are excluded. Disney+ allows you to stream its digital content on Mac only through web browsers. Is it really no way to download Disney Plus videos on Mac to watch offline? Fret not, this is the problem we will tackle in this article.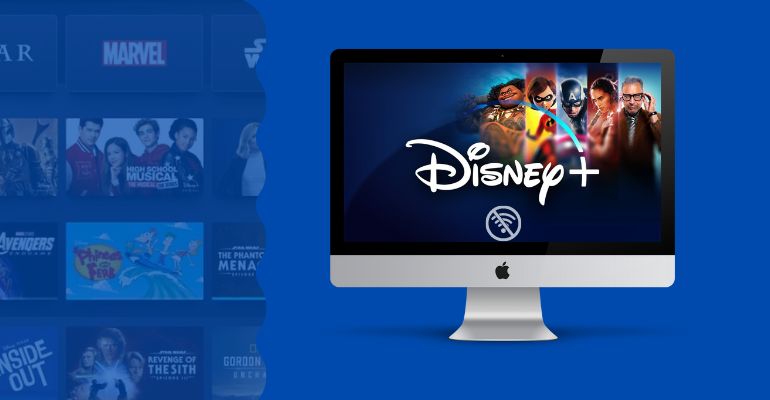 The key to solving this problem is to download Disney+ videos to your Mac without the Disney+ app. While Disney+ only allows downloading videos via the app, you can find some good video downloaders to download videos from the Disney+ website directly. Among them, DispCam stands out from lots of tools due to its excellent downloading capability and high efficiency.
How Can DispCam Help You Download Disney+ Videos on Mac?
DispCam is the best Disney Plus video downloader for Windows and Mac computers. Here are its main features:
Main Features:
HD quality: It is dedicated to downloading movies and TV shows from Disney Plus with high resolution (up to 720p).
MKV & MP4 format: It utilizes a built-in search engine to find videos by title and link from the Disney Plus web player, and directly download videos on your computer in MP4 or MKV format and retain audio tracks and subtitles in multiple languages.All those downloads are not transferrable across devices and playable on apps other than Netflix.
Three subtitle modes: It also offers three kinds of subtitles: external subtitles, internal subtitles, and hardcode subtitles. And you can save subtitles files as SRT files as well for easier edition.
Two video codec options: DispCam gives you 2 options for video codecs: H.264 and H.265.
Fast Download: DispCam features batch download function that allows you to add a season of shows to download on your computer with just one click. Meanwhile, the hardware acceleration function can speed up the download process. Currently, it only takes 10 minutes to download an episode of TV series and 20 minutes to download a movie. Compared with before, DispCam greatly shortens the download time.
Keep Video info: DispCam will save all the related information about the downloads. You don't need to worry about the management of the downloads at all.
With DispCam, you can download any videos from Disney Plus on Mac or transfer them to other devices.
Tutorial: Download Disney Plus Video on Mac with DispCam
The following is a detailed tutorial on how to download Disney Plus videos on Mac with DispCam. To start with, please download and install DispCam on your Mac.
Step 1 Log in to Disney+ on DispCam
Run DispCam and enter any word in the search bar and you will see the sign-in window pop up shortly. Please sign in with your Disney+ account. And you don't need to worry about your account safety as what you log in to is the Disney Plus official website.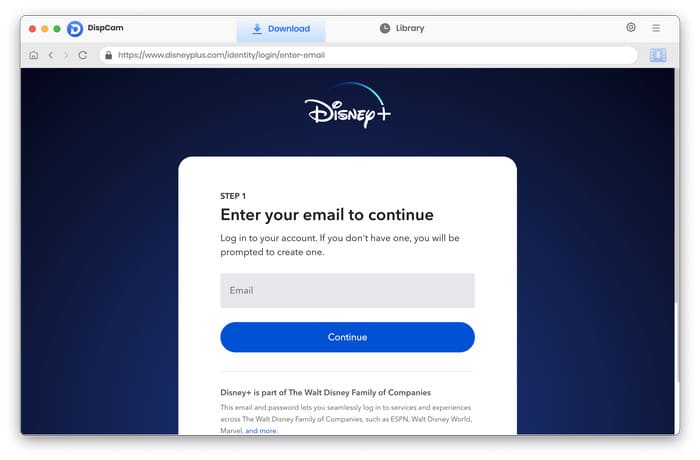 Step 2 Choose the Output Settings
Click the "Settings" button on the upper right corner of the program and choose the video format, video quality, the language of audio and subtitles, and others in the "Download Settings" tab. In addition, the download process will be faster if the hardware acceleration is available, which you can enable it in the "Advanced" tab.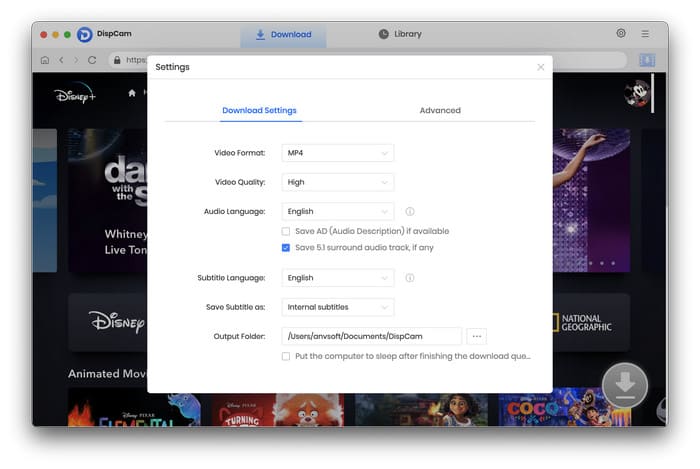 Step 3 Search for Disney Plus Videos
Directly enter the video's name or copy and paste the URL from the Disney Plus web player to DispCam, and then click the magnifying glass icon. DispCam will find the most related titles for you and display the results in the program. You need to find the movie or TV show that you want to download.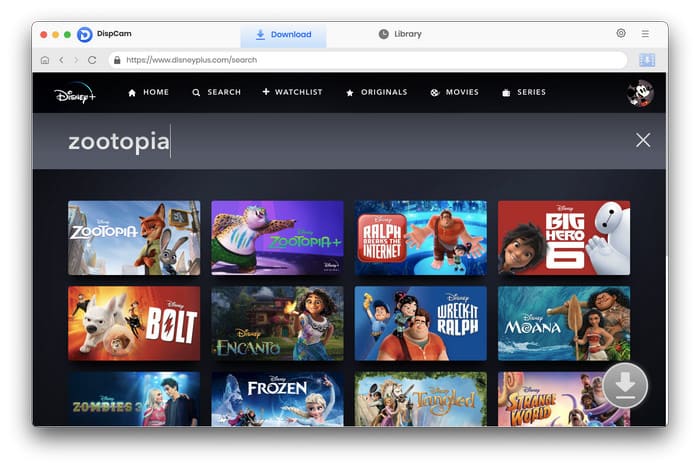 Step 4 Choose the Advanced Download Settings
In the advanced download settings, you can choose the video quality, and select a specific audio track and subtitle file as your need. This option appears on the right of the "Download" icon when you are trying to download a movie. If you want to download a TV show, click the "Download" icon and then you will see the "Advanced Download" button at the bottom left of the pop-up window.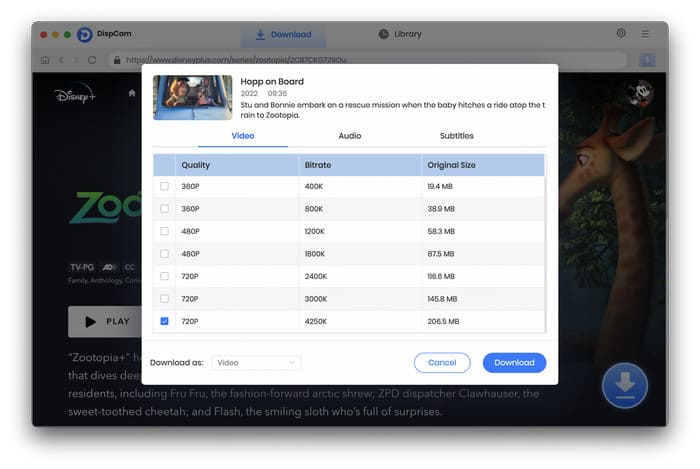 Step 5 Start Downloading Disney Plus Videos on Mac
Click the "Download" button, and then DispCam will start downloading the selected videos one by one. During this time, you can add more videos that you are interested in to the downloading list.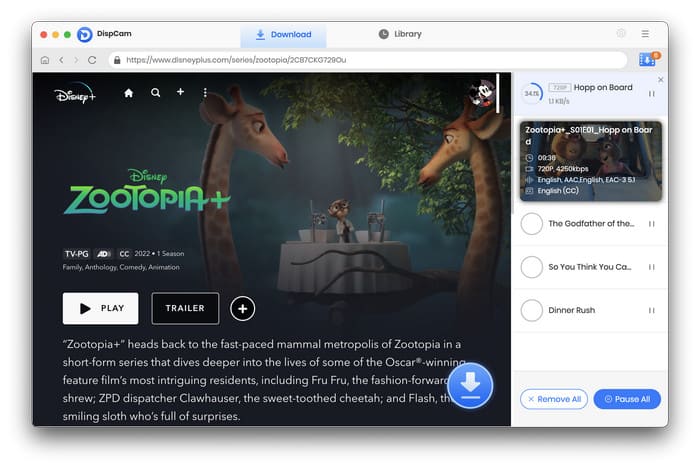 Step 6 Find Downloaded Videos on Mac
Once all videos are downloaded, click the "Library" tab to check the download history. Click the "Folder" icon at the end of each video to open the output folder where the videos are saved. Now you can enjoy Disney Plus movies or TV shows offline on Mac.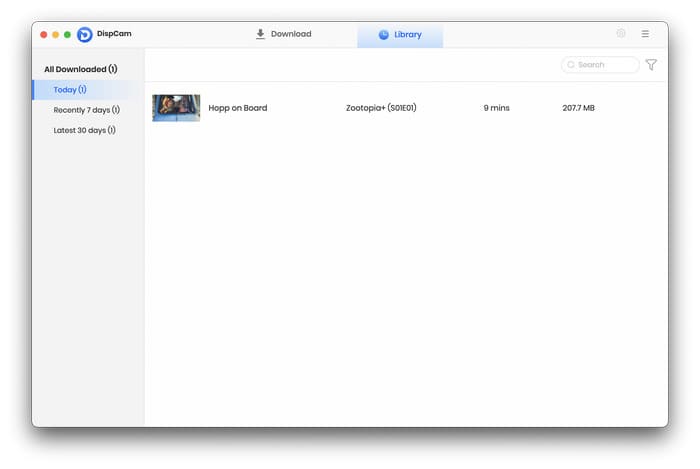 Conclusion
If you have trouble finding the Disney Plus app on Mac but want to watch Disney Plus videos offline on your Mac, or transfer Disney Plus videos to other devices like an SD card or USB drive, try DipsCam. DispCam is capable of downloading unlimited videos from Disney Plus on your Mac computer and enables you to watch the downloaded videos offline anywhere. No matter your Mac computer is a Macbook Pro, Mac Air, Mac laptop, or any other Mac PC, you can always use DispCam to do that. Just download the free trial version to have a try!
Note: The free trial version of DispCam allows you to download the first five minutes of each video. To download the full video, you may need to subscribe to DispCam to unlock the limitation.
---