Top 10 Halloween Movies to Stream on Disney Plus
It is time to craft your costumes, load up on plenty of sweet and sugary treats and cover your home with festive decorations, and then wait for the arrival of Halloween. Of course, it is also essential to prepare some horror movies for Halloween night. Disney Plus has a curated collection of Halloween for kids and adults, such as Spooky Buddies, Hocus Pocus, Frankenweenie, The Nightmare Before Christmas, the Halloweentown film series, and so on. To help you get into the Halloween spirit, here we pick up the top 10 Halloween movies to stream on Disney Plus, including new originals and beloved classics. You can stream those movies online at that time, or download them to your devices in advance for offline viewing.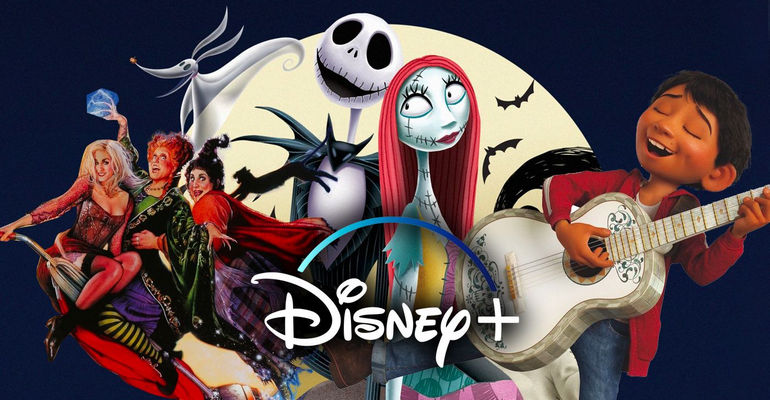 1. LEGO Star Wars Terrifying Tales
Introduction: After crashlanding on Mustafar, Poe Dameron and BB-8 visit Castle Vader, the galaxy's "first all-inclusive, Sith-inspired, luxury resort." Darth Vader's servant Vaneé regales his guests with "three Sith-inspired stories: "The Lost Boy" the story of how a young Ben Solo first meets Ren and his Knights of Ren; "The Dueling Monstrosities," which imagines how Darth Maul and General Grievous were reborn; and "The Wookiee's Paw," which gives a look at what might have been if all of Luke Skywalker's greatest wishes were immediately granted."
---
2. Muppets Haunted Mansion
Introduction: The Great Gonzo - world famous daredevil artiste, has done it all, seen it all, and survived it all. But on Halloween night, the fearless Gonzo takes on the greatest challenge of his life by spending one very daring night in the most grim grinning place on Earth... The Haunted Mansion.
---
3. Under Wraps
Introduction: The story follows three 12-year-old friends, Marshall, Gilbert and Amy, as they happen upon and awaken a mummy, which they affectionately name Harold. Together, they must rush to return him to his resting place before midnight on Halloween. Along the way, the team narrowly escapes a nefarious group of criminals who are determined to sell the mummy to the highest bidder. When Harold is inevitably captured, Marshall, Gilbert and Amy must band together to stand up to the criminals, face their fears and rescue their new—but rather "ancient"—friend.
---
4. Maleficent
Introduction: Maleficent is a powerful fairy living in the Moors, a magical forest realm bordering a human kingdom. When an invading army threatens the land, Maleficent rises up to become its fiercest protector. However, a terrible betrayal hardens her heart and twists her into a creature bent on revenge. She engages in an epic battle with the invading king's successor, then curses his newborn daughter, Aurora — realizing only later that the child holds the key to peace in the kingdom.
---
5. Frankenweenie
Introduction: When a car hits young Victor's pet dog Sparky, Victor decides to bring him back to life the only way he knows how. But when the bolt-necked "monster" wreaks havoc and terror in the hearts of Victor's neighbors, he has to convince them that Sparky's still the good, loyal friend he was.
---
6. Coco
Introduction: A 12-year-old boy who dreams of becoming the greatest musician of all time is told "no music!" his whole life. It's not until he ends up in the Land of the Dead among his ancestors and makes a most unexpected friend that his family story unfolds.
---
7. Hocus Pocus
Introduction: After 300 years of slumber, three sister witches are accidentally resurrected in Salem on Halloween night, and it is up to three kids and their newfound feline friend to put an end to the witches' reign of terror once and for all.
---
8. The Nightmare Before Christmas
Introduction: Tired of scaring humans every October 31 with the same old bag of tricks, Jack Skellington, the spindly king of Halloween Town, kidnaps Santa Claus and plans to deliver shrunken heads and other ghoulish gifts to children on Christmas morning. But as Christmas approaches, Jack's rag-doll girlfriend, Sally, tries to foil his misguided plans.
---
9. Halloween Town
Introduction: This Disney Channel Original went on to spawn a number of sequels (which are also all on Disney+). The movie tells the story of Marlie, who on her 13th birthday, learns she's a witch, discovers a secret portal, and is transported to Halloweentown — a magical place where ghosts and ghouls, witches and werewolves live apart from the human world. But she soon finds herself battling wicked warlocks, evil curses, and endless surprises.
---
10. The Night House
Introduction: Beth (Rebecca Hall) is devastated by the unexpected death of her husband. She spends her nights drinking and going through Owen's belongings. She is confused with her husband's suicide note "You were right. There is nothing. Nothing is after you. You're safe now". She begins to suffer from strange supernatural events at night and finds a strange reversed floor plan for their house. Against the advice of her friends, she begins digging into his belongings, yearning for answers.
---
Those horror and scary movies can definitely bring you a thrilling and exciting experience. Having a smooth viewing experience is also important, thanks to the download function available on the Disney+ app, you can download those movies to watch offline without worrying that you will be interrupted due to the poor network. Although Disney Plus has no limits on the number of titles you can download at once, it only allows you to save the downloaded videos on mobile devices and watch them within the Disney+ app. If you want to watch those Halloween movies with your family, you need to play them on a big screen. So we additionally present a guide on how to watch Disney+ Halloween movies offline on a big screen.
Extra: Download Disney+ Hallaween Movies to Watch Offline
It is essential to download Halloween movies from Disney+ for watching them offline on a big screen. There is a professional video downloading tool called DispCam that has the ability to download Disney+ movies and TV shows without the Disney+ app. This program adopts a unique technology that can download Disney+ videos as MP4 or MKV files and retain multi-language audios and subtitles. Additionally, you can not only save Disney+ videos on the computer but you can also transfer the downloads to any device for offline viewing. Move on and learn how to do that.
What's DispCam?
A professional tool that can help you download movies and TV shows from Disney+, and enjoy the content offline at any time.

Learn more about DispCam >>
Step 1. Launch DispCam and Sign in with Disney+ Account
Run the program on your computer, enter any word into the search bar and press the "Enter" button on the keyboard, then you need to enter your Disney+ account and password in the pop-up window to access your Disney+ library.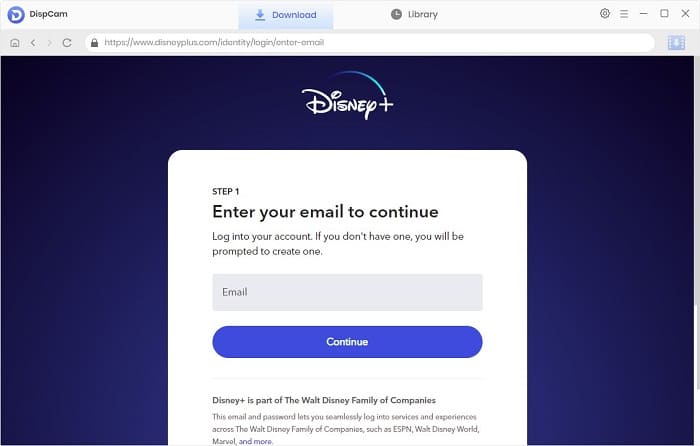 Step 2. Search for Halloween Movies
Directly enter the name of a movie, or copy the video's link from the web player and paste it to the search bar. DispCam will search for the content using the embedded searching engine.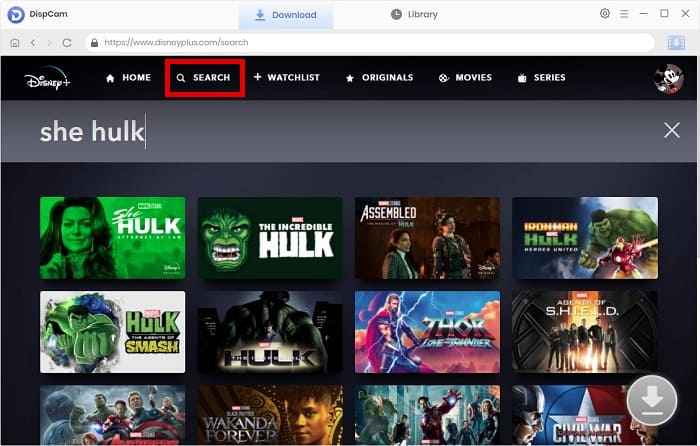 Step 3. Choose the Output Settings
Go to the settings window by clicking the Settings icon on the upper right corner of the program. Here you can choose the video quality and video format, select the language of audio tracks and subtitles, set the output path, etc. These are the general settings for all titles that you want to download. If you want to customize the output settings for certain videos, go to the advanced settings.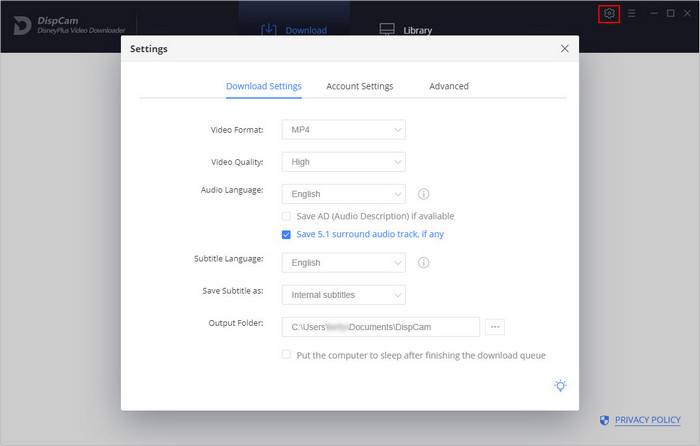 Step 4. Customize the Advanced Settings
If you are downloading a movie, click the

icon next to the "Download" icon, and choose your preferred video quality, audio tracks, and subtitles for this video.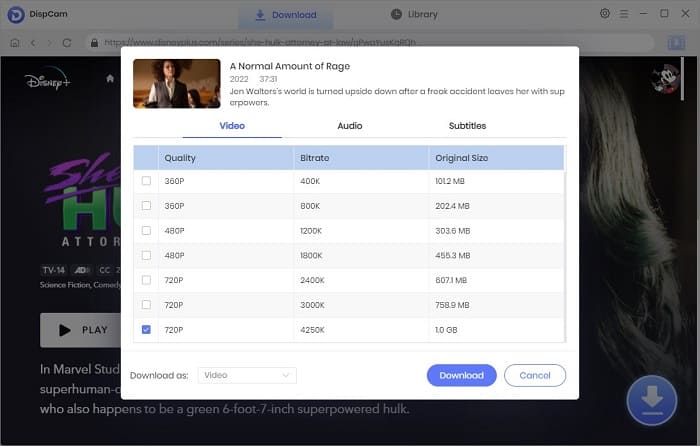 Tips: If you want to download a TV show, after clicking the "Download" icon and picking up the episodes you want to download from the pop-up window, click the Advanced Download button on the bottom to choose the advanced settings.
Step 5. Download Halloween Videos on Your Computer
After choosing the settings, click the Download button, DispCam will download the selected videos on you computer. Once they are downloaded, you can find them in the Library tab.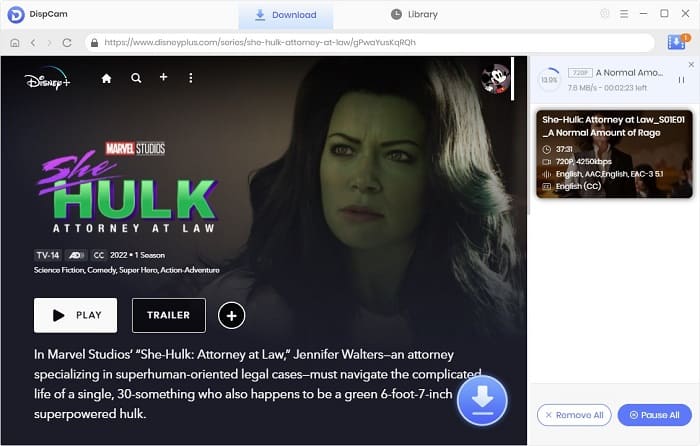 Step 6. Watch the Downloaded Videos on a Big Screen
You can watch Disney+ Halloween movies offline on your TV by connecting your computer to the TV, or copying the downloads to a USB drive and plugging it into the USB port behind the TV.
Conclusion
Disney Plus saves your Halloween night with a selection of Halloween movies and TV shows to delight. There are a lot of movies and shows to keep both young and older viewers happy this Halloween. Here we round up 10 of the very best movies that you can't miss on Disney Plus. Besides, in order to have a better viewing experience, we suggest you download Halloween movies to watch offline on a big screen with your family and friends. Considering that the videos can only be downloaded on mobile devices using the Disney+ app, we introduce a useful program to help you download movies on the computer. Once the videos are downloaded, you can watch those Halloween movies on any device. Now just try it and have a happy Halloween!
Note: The free trial version of DispCam allows you to download the first five minutes of each video. To download the full video, you may need to subscribe to DispCam to unlock the limitation.