How to Stream "She-Hulk: Attorney at Law" Offline?
"She-Hulk: Attorney at Law" officially started its streaming on Disney+ on August 18, 2022. If you love the Hulk, you may also want to watch She-Hulk and see how Bruce Banner's cousin Jennifer Waters, as a criminal lawyer, became a female Hulk after receiving a blood transfusion from Banner after an injury. And for some reason, you probably can't watch it online, so you may download "She-Hulk: Attorney at Law" on the Disney Plus app to watch later. However, the download may be unwatchable if Disney Plus decides to set an extra charge for downloading it or if your subscription expired. Is there a way that you can stream "She-Hulk: Attorney at Law" offline forever?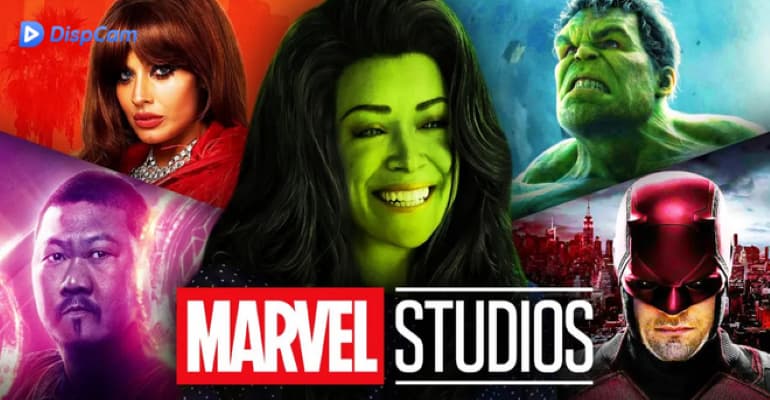 Of course, DispCam is the best solution, and you can always hold your faith in it as DispCam can download "She-Hulk: Attorney at Law" in HD quality from the Disney+ official website to your devices. And once the series is downloaded, you won't be worried about the validation time for watching since it is stored on your device permanently.
What's DispCam?
A professional tool that can help you download movies and TV shows from Disney+, and enjoy the content offline at any time.

Learn more about DispCam >>
DispCam is a powerful video downloader that can help you get high-quality movies and TV shows from Disney Plus without the app being installed. If you have DispCam downloaded and installed on your computer, you can:
1. Download any video from Disney+ (She-Hulk included).
2. Save multi-language audio and subtitles.
3. Download Disney Plus videos in MP4 or MKV format. (You can save She-Hulk forever and your other favorite videos with this feature).
4. Support 3 types of subtitles: Internal, External, and Hardcode subtitles.
5. Preserve H.264 and H.265 codec videos.
6. No spies or extensions were inserted into the program.
The following part will show you how to use this powerful tool to download "She-Hulk: Attorney at Law" for offline streaming.
Download and Stream "She-Hulk: Attorney at Law" with DispCam
Step 1. Sign in to Disney Plus with Your Account
Run DispCam on your computer, enter some words into the search bar, and you will be asked to sign in with your Disney Plus account.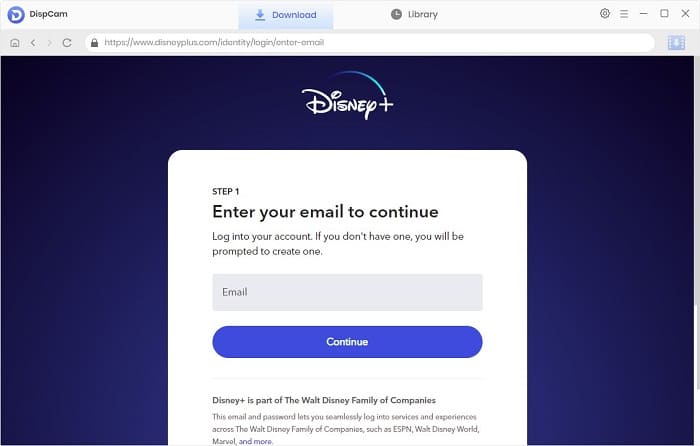 Step 2. Choose the Output Settings
Click the Settings icon to choose the output format, video quality, the language of audio and subtitles, the way of saving subtitles file, and the output path. If you logged in with the wrong account before, you can shift it to the right one on the "Account Settings" tab. And you are also offered hardware acceleration if you click the "Advanced" tab.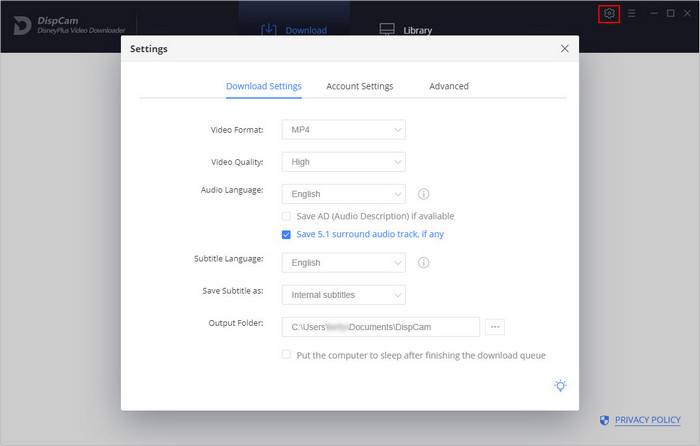 Step 3. Find "She-Hulk" on DispCam
Enter the name "She-Hulk" or enter the video's link copied from the Disney Plus web player. DispCam will find the content quickly and list all of them below the search box. If there are too many results to browse through, you can click the "Inverted Triangle" icon on the upper right corner of the search results to filter them by movies or TV shows.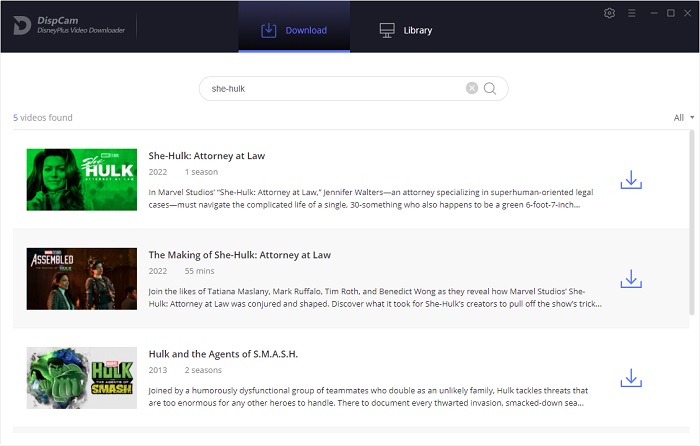 Step 4. Choose the Advanced Settings
Click the Download icon and choose the title that you want to download from the pop-up window, then click the Advanced Download button on the bottom left of the window. Here you can reselect the video quality, audio tracks, and subtitles.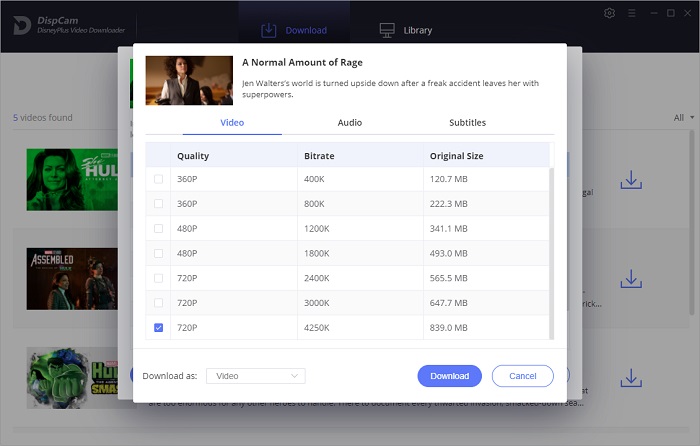 Step 5. Start Downloading the Video
Click the Download button, the selected videos will be added to the download queue. Now you just need to wait for the downloads. Once downloaded, click the "Library" tab, and you will see the video files of "She-Hulk". To find where they are stored, simply click the "Folder" icon. If you don't need them anymore, you can also delete them by clicking on the "Dust Bin" icon.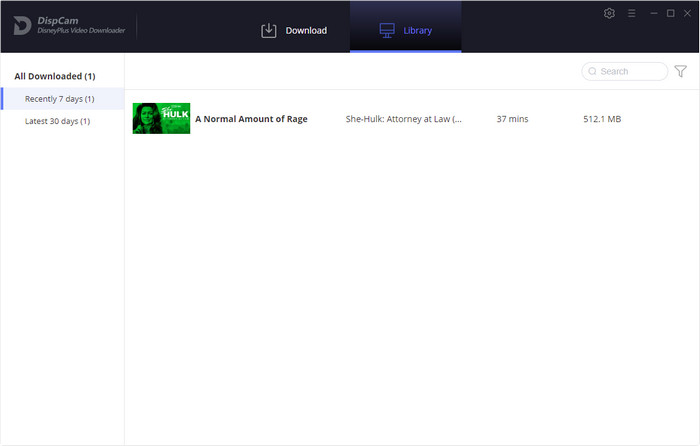 Conclusion
It is true that you can directly stream "She-Hulk" offline on the Disney Plus app, but you will be always worried about losing access to it for many reasons like your subscription is expired, you are too busy to finish it before the downloads are greyed out, or you get a new phone. However, you will be surprised if you use DispCam to download it for playback as DispCam can save "She-Hulk" as local files on your devices, which means you are able to watch it anytime and anywhere. Besides that, you can download the latest episodes as they air on Disney Plus.
Extra Tips: All She-Hulk Episode Release Dates and the Runtimes
This 9-episodes series is exclusively available on Disney Plus and the first episode of "She-Hulk" premiered on Disney+ on August 18, 2022. The next episode of She-Hulk will drop on Disney+ on Thursday, August 25, and the subsequent episodes will be aired weekly on Thursdays.
It will take approximately 30 minutes to watch an episode of "She-Hulk: Attorney at Law". Episode runtimes will vary slightly from episode to episode, but they will generally be about half an hour.
Note: The free trial version of DispCam allows you to download the first five minutes of each video. To download the full video, you may need to subscribe to DispCam to unlock the limitation.
---