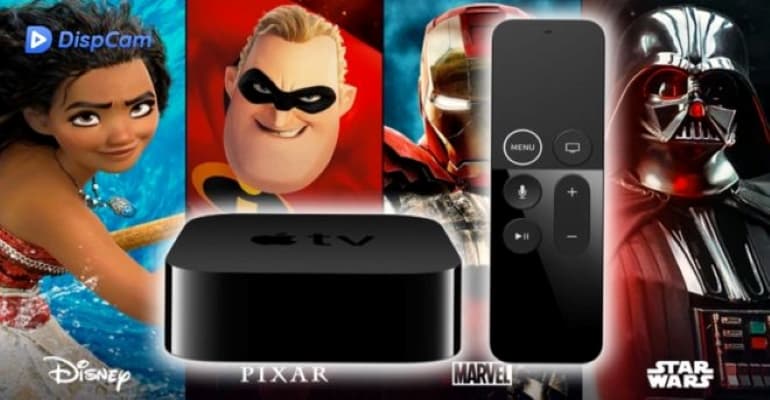 How to Watch Disney+ Video on Apple TV?
For a better viewing experience, many Disney Plus fans prefer to watch Disney Plus videos on TV. Among all the TV in the market, Apple TV stands out for its high-quality hardware and powerful function that other TVs don't have. To watch Disney Plus videos on an Apple TV, you need to download the Disney+ app from the App Store first. Moreover, your Apple TV devices should be running tvOS 14.0 or later. What if my Apple TV can't let these two things happen?
Don't worry, you can also download the Disney Plus videos that you like first and cast them over your Apple TV. Here you just need a little help from DispCam, which lets you download any HD Disney+ video you want from the official website. After that, you can watch Disney Plus videos on your Apple TV running an old tvOS without installing the app either.
What is DispCam?
A professional tool that can help you download movies and TV shows from Disney+, and enjoy the content offline at any time.

Learn more about DispCam >>
DispCam is the best Disney+ video downloader, which comes with high device compatibility that it is available on both Windows 11/10/8/8.1/7 and Mac OS X 10.15 - macOS 13. You can easily download HD Disney+ videos after finding them by their names or URLs. With DispCam, you can:
1. Download unlimited Disney+ videos in MP4 or MKV format.
2. Save multi-language audio tracks and subtitles.
3. Choose three subtitle modes: Internal subtitles, External subtitles, Hardcode subtitles.
4. Select two video codecs: H.264 and H.265.
5. Keep all the related information about the videos.
6. Play the downloads on players like VLC and WMP.
7. Cast the downloads over an Apple TV.
8. Get started easily with a multi-language interface and user-friendly guides.
Download Disney+ Video with DispCam and Cast Them over Apple TV
Please make sure that you have downloaded and installed the latest DispCam on your computer.
Step 1. Log into Your Disney Plus Account on DispCam
Run DispCam on your computer and type any word in the search bar, then hit "Enter" on the keyboard. A pop-up window will appear asking you to log in to Disney+.
Warm note: DispCam doesn't support Hotstar accounts, and please make sure you don't use a Kid Profile to log in.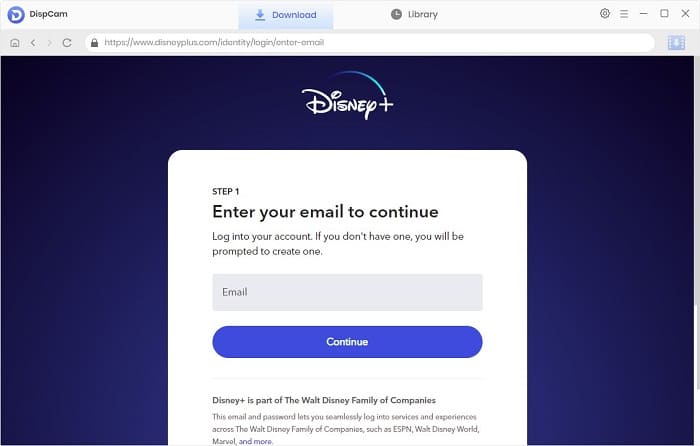 Step 2. Choose the General Settings for the Output Videos
Clicking the Settings button in the upper right corner to open the settings window, here you can set the video quality, video format, the language of audio and subtitles, and so on. If you click "Advanced" tab, you can choose different video codecs, proxies, etc.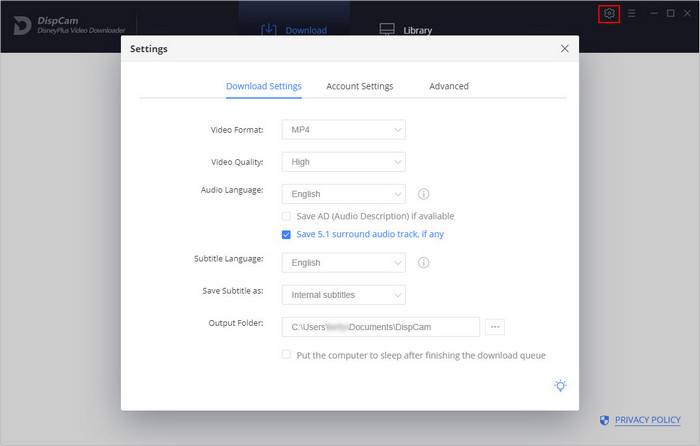 Step 3. Search for Disney Plus Titles
Please enter the name of the video that you want to download or copy and paste the URL from the web player into DispCam. The program will search for the video quickly. If you don't want to look through the search result window, it is suggested that you use the link to find the exact Disney+ video.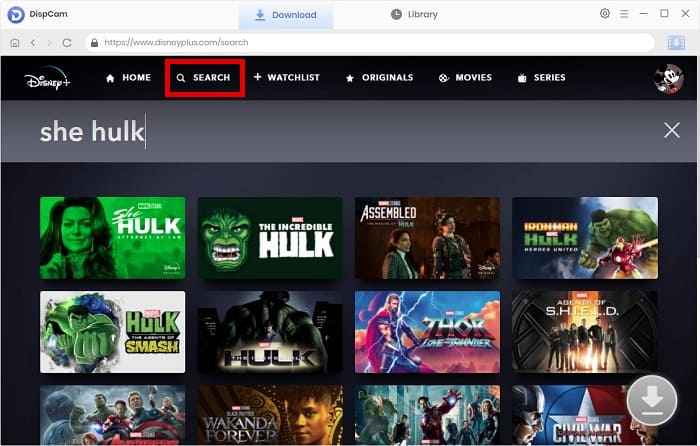 Step 4. Choose the Advanced Download Settings
If you want a movie to be downloaded, click the icon next to the Download icon to open the advanced download settings. Here you can select the video quality, audio tracks, and subtitles based on the bitrates and file sizes.
For a TV show, click the Download icon and select the season and the episodes that you want to download in the pop-up window, then click the Advanced Download button at the bottom left of the window.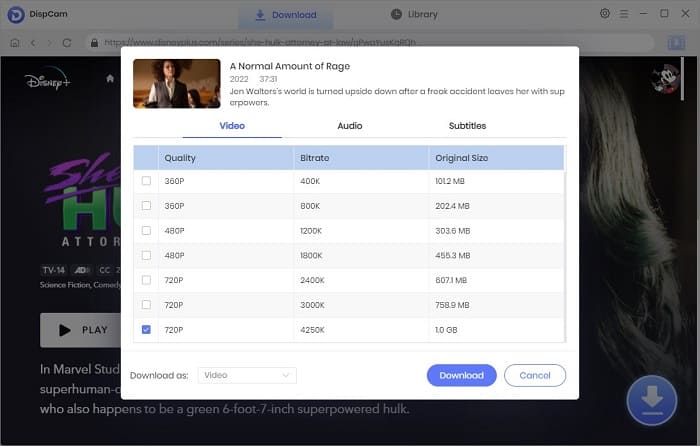 Step 5. Download Disney Plus Video on PC
Click the Download button to start downloading the selected videos on your computer. During waiting, you can put other videos on the downloading list as well.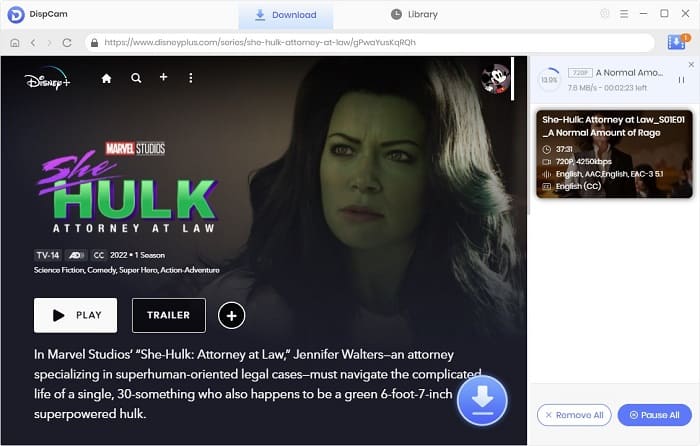 Step 6. Cast the Downloaded Videos to Your Apple TV
Once the needed video is downloaded successfully, a little pop-up window will appear reminding you it is done. After that, go to the "Library" tab, and click the "Folder" icon to find the output files on your computer. Next, make sure your computer and your Apple TV are connected to the same internet first, and then you can cast the download over your Apple TV.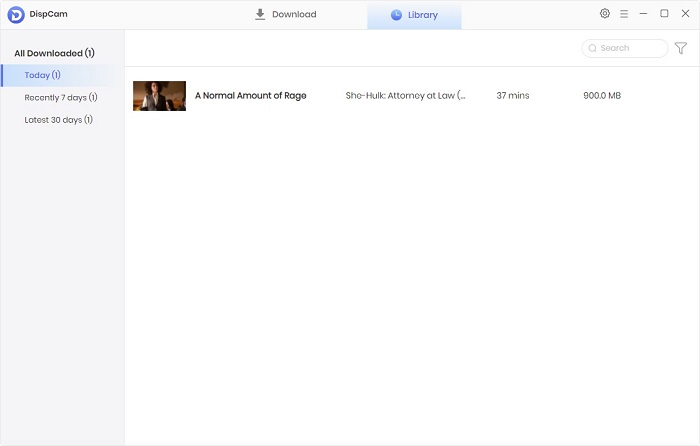 Conclusion
Watching Disney+ on Apple TV is such a great experience especially when you are with your family or friends. If you use the Disney Plus app to do this, you will be trapped by many rules. However, things will be totally different if you use DispCam since it downloads the Disney Plus as local files on your device, which means you can watch it anytime and anywhere without any limitation. Is it amazing? If you feel the same way, why not download DispCam now and have a try?
Note: The free trial version of DispCam allows you to download the first five minutes of each video. To download the full video, you may need to subscribe to DispCam to unlock the limitation.
---