How to Keep Disney+ Video Playable after Canceling the Subscription?
---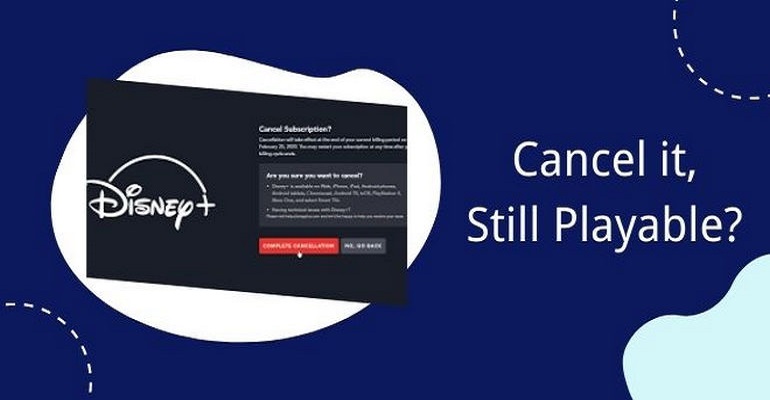 The benefit of subscribing to Disney Plus is that you will get access to its full library of tons of enchanting titles from Disney, Marvel, Pixar, and more. And this service is more competitive in terms of price, compared with Netflix and Amazon Prime Video. You can subscribe to Disney Plus with $7.99 on a monthly basis or $79.99 on an annual basis, as well as the Disney Plus bundles if you want to have a subscription to Hulu and ESPN Plus services, for the reasonable price of $13.99 a month. No matter which plans you choose, Disney Plus allows you to stream ad-free videos at any time and equally has the download function that enables you to appropriately download videos to watch offline. Although it doesn't have a restriction on the amount of time that you can watch the downloads, please keep in mind that all videos downloaded from Disney Plus can only be accessed during your subscription.
If you cancel the subscription, you can continue to stream videos until your subscription expires. After that, you will lose the right to access any content from Disney Plus, including what you downloaded before. Hoping to keep your downloaded content after your Disney Plus account expires? Here we provide a workable solution to download movies and shows from Disney Plus, making the downloaded videos still playable after the subscription ends. To make the downloaded videos available to play freely, we need a tool to download Disney Plus videos in an ordinary format. DispCam is a functional tool that can help you easily save Disney Plus videos in MP4 or MKV format so that you can watch videos at any time.
Tool Requirement: DispCam
Highly-efficient application for downloading Disney Plus videos in MP4 and MKV format.

Learn more about DispCam >>
Since the original content from Disney Plus is encoded with a proprietary format that is only available on the Disney Plus app, you cannot play the videos again after canceling the subscription. DispCam is born to download and save Disney Plus movies and shows in MP4 or MKV format, making the downloaded videos playable on multiple devices. It comes with a smart search engine, customized output settings, and a batch download function, capable of downloading Disney Plus movies and shows in high quality with multiple audios and subtitles kept. With it, you are able to save Disney Plus videos on any devices to watch offline even if your subscription ends.
How to Get Disney Plus Video with DispCam?
Step 1. Sign in to Disney Plus
Firstly, you need to log in to Disney Plus to get access to the Disney Plus library. Launch DispCam, type any word in the search bar and press the "Enter" button on the keyboard. A sign-in window will pop up asking you to log in to Disney Plus.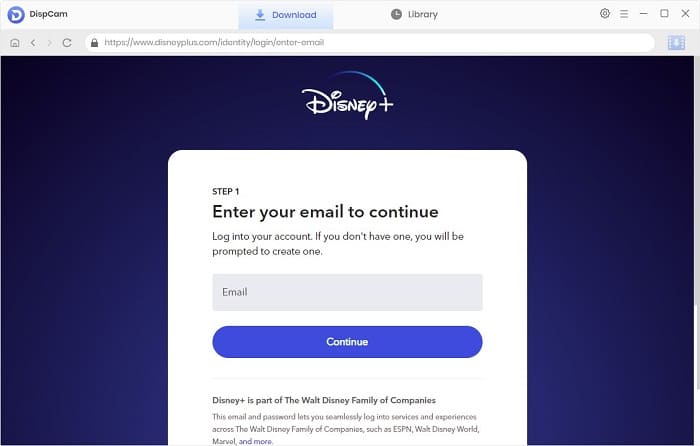 Step 2. Choose the General Settings
Click the gear icon on the top right corner of the screen and go to the settings window. You are able to set the video format, video quality, the language of audios and subtitles, and choose to save subtitle files in different codec modes. You can also set the output path.
Step 3. Search for Disney Plus Video
Search for videos by entering the video's name or copying and pasting the URL from the Disney Plus website. DispCam will show you the results below the search bar. So just find the video you want.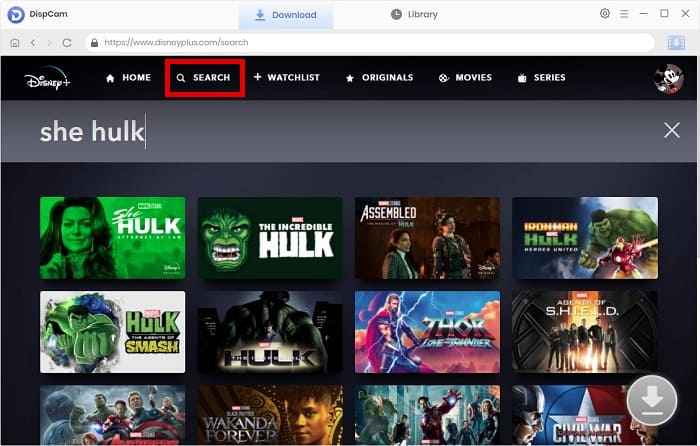 Step 4. Choose the Advanced Settings
It is easy to choose the advanced settings for movies. Click the settings icon next to the download icon, here you can choose the video quality with different sizes and select audio tracks and subtitles in different languages and formats. When you download a TV show, click the download icon and choose the season and title from the pop up window, then click the "Advanced Download" button to customize the settings.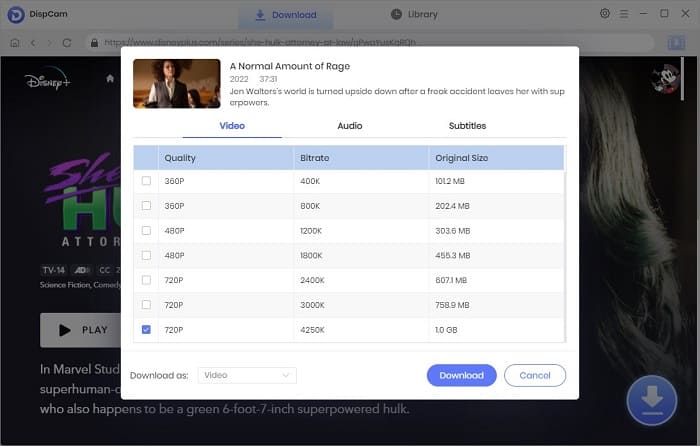 Step 5. Start Downloading Disney Plus Video
Now you just need to click the Download button to start downloading the selected videos.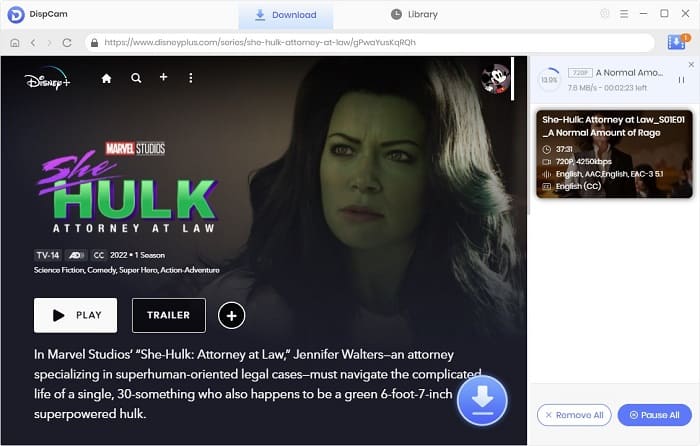 Step 6. Find the Downloaded Video
After downloading, you can find the downloaded videos in the Library tab. Now the videos will not disappear after canceling your Disney Plus subscription.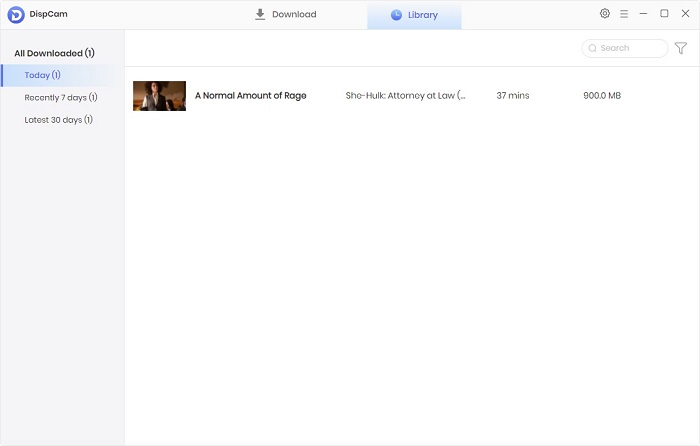 Conclusion
In a word, whether you expect to keep your downloaded videos after canceling the Disney Plus subscription, or to move Disney Plus videos to other devices for playback, Dispcam will never let you down. Without installing the Disney Plus app, DispCam can help you directly download unlimited movies and shows from the Disney Plus website. As a highly effective video downloader, it is equipped with a speedy information process system that can find out the target videos by name or URL, and download videos in batches. With the assistance of DispCam, downloading videos from Disney Plus becomes easy and simple. You are able to enjoy Disney Plus content anytime anywhere without limitations.
Note: The free trial version of DispCam allows you to download the first five minutes of each video. To download the full video, you may need to subscribe to DispCam to unlock the limitation.
Related Articles