Everything You Should Know About Disney Plus
---
If you haven't tried Disney Plus yet, you're truly missing out on all the great movies and TV shows the streaming service offers. Disney Plus, launched on November 12, 2019, is new to join the family of streaming video services. As the latest member of the TV streaming market, Disney Plus has the strength to compete with the heavyweights such as Amazon Prime Video and Netflix, relying on its large library of wide-ranging content. If you would like to watch some classical films produced by Walt Disney Studio, or other great content, it is really worth having a membership on Disney Plus.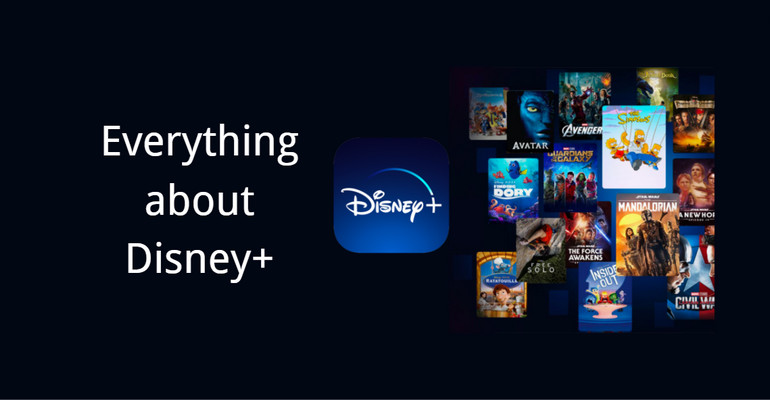 Before you decide to subscribe to Disney Plus, there is something you need to figure out. Such as, what is Disney Plus? What content can you get from Disney Plus? How to stream movies or series from the platform? … This article will explain everything you should know about Disney Plus in detail.
1. What's Disney Plus?
Disney Plus is a subscription-based streaming video service that's similar to Netflix, Amazon Prime, Apple TV, and Hulu. It offers a massive library of movies and TV shows produced by Walt Disney Studios, 20th Century Fox, Marvel Studios, Pixar, National Geographic, and more. Instead of paying individually for your favorite Disney movies or shows, Disney Plus gives you access to its entire library.
2. What Does Disney Plus Offer?
Disney+ has a consistently expanding library of Disney, Pixar, Marvel, Star Wars, and National Geographic content. On Disney Plus, you will find pretty many Disney animated movies, from early classics like Snow White and Pinocchio to modern hits such as Moana, Zootopia, and Frozen. And Disney Plus has an almost complete archive of Pixar movies as well as every Star Wars movie. Additionally, if you like the story of Marvel Cinematic Universe, you can also complete most MCU movies from the platform. The two Tom Holland Spider-Man movies and The Incredible Hulk are missed from Disney Plus as those owned by other studios.
There's also a bunch of Disney Plus original movies you won't find anywhere and exclusive content provided by National Geographic. All in all, Disney plus is a family-friendly streaming service as it offers a wide range of titles for kids and adults.
3. What Does Disney Plus Cost?
You have several options if you want to sign up for Disney Plus. If you just want to stream videos from Disney Plus, you can subscribe to the service on a monthly or annual basis. The prices will be different depends on your location.
Disney+ Basic: $7.99 per month
Disney+ Premium: $13.99 per month or $139.99 per year
Besides, Disney Plus provides bundle options that package with two other Disney-owned streaming services, Hulu and ESPN+.
Disney+ (With Ads) and Hulu (With Ads): $9.99 per month
Disney+ (No Ads), Hulu (No Ads): $19.99 per month
Disney+ (With Ads), Hulu (With Ads), and ESPN+ (With Ads): $14.99 per month
Disney+ (No Ads), Hulu (No Ads),and ESPN+ (With Ads): $24.99 per month
Once you subscribed to Disney Plus, you can stream ad-free movies, TV shows, documentaries, and other original content exclusive to Disney Plus on four devices simultaneously and download movies and TV shows on up to 10 devices.
4. What Countries is Disney Plus Available in?
Disney Plus launches first in the US, Canada, and the Netherlands on November 12th, 2019. One week later, Disney Plus is available in Australia, New Zealand, and Puerto Rico. In March 2020, the service expends to the UK, Germany, France, Italy, and Spain. Later, Disney Plus adds the service to more European and Latin American countries.
Disney Plus continues expanding its service to more regions. If you want to watch Disney Plus videos outside those countries, you should have a VPN connection to access the service.
5. What Devices and Platforms are Supported by Disney+?
You can stream from Disney Plus on a huge range of devices. Disney Plus can be accessed via the Disney Plus app and web browsers. It is compatible with Amazon Fire TV, Apple TV, Google Chromecast, Roku, Android TV, iPhone/iPad, Android Phone/Tablet, Windows, PlayStation, Xbox, LG Smart TV, Samsung Smart TV, Sony Smart TV, and more.
6. How to Download Movies and TV Shows from Disney Plus?
Like the other streaming services, Disney Plus has the download capability that allows you to download movies and TV shows to watch offline. but only if you subscribe to Disney+ Premium.
Step 1 Open the Disney Plus app on your iOS/ Android phone or tablet.
Step 2 Sign in with your Disney Plus account on the app. If you don't have an account yet, sign up for it firstly.
Step 3 Find the video that you want to download and go to the description page of the video.
Step 4 To download movies, directly click the "Download" button. To download an entire season of a TV series, click the "Download Season" button.
Step 5 Once movies or shows have been successfully downloaded, tap the "Download" icon on the bottom of the screen, you will find all the content that you have downloaded.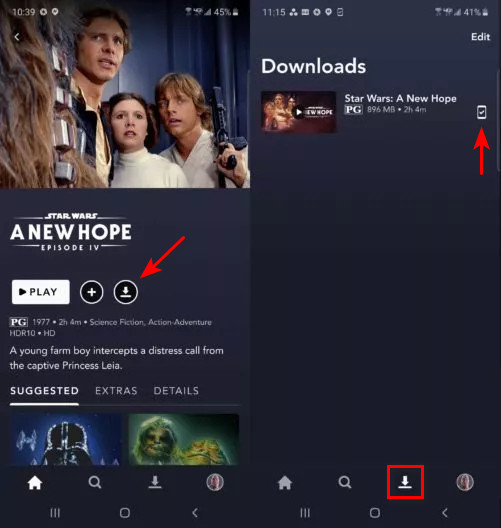 There are no limits on the number of downloads of the same titles and the amount of time to watch the downloaded videos. Technically, the number of titles you can download from Disney Plus is restricted by your storage space. But, we have to mention that you cannot move the downloaded video to watch on another device because the video is saved in an encrypted format. To watch downloaded Disney+ videos on other devices, you need the help of third-party tool.
What's DispCam?
DispCam is a handy tool to download unlimited movies and shows from Disney Plus to Windows and Mac computers.

Learn more about DispCam >>
DispCam can help you do this on any device without using the Disney Plus app. It is a professional program that supports downloading any videos from Disney Plus, letting you save Disney Plus movies and TV shows in MP4 or MKV format. In addition to saving Disney Plus videos in a common format, DispCam also allows you to save multi-language audio tracks and subtitles for the downloaded videos, as well as set the video quality based on the bitrate and files size. Once the videos have been downloaded, you are able to move the videos to any device without limits. Here is how to use DispCam to download movies and shows from Disney Plus.
Step 1 Install the latest version of DispCam on your computer and open it.
Step 2 Click the "LOG IN" button, and you will see a Disney+ login window as below. Please log in with your Disney Plus account.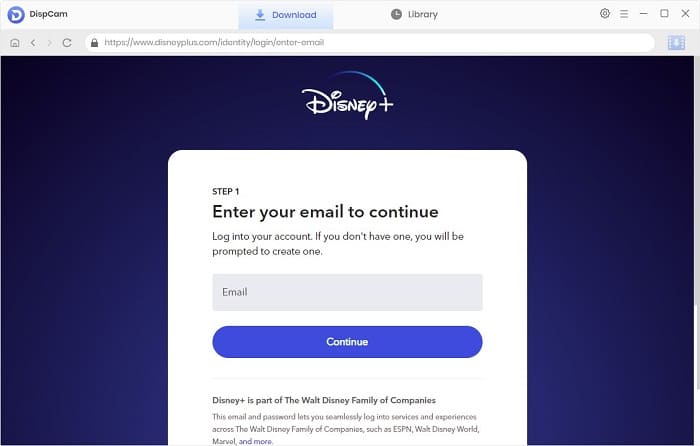 Step 3 Click the "Settings" icon on the upper right corner of the program and choose the output settings, including the video format, video quality, the language of audios and subtitles, etc.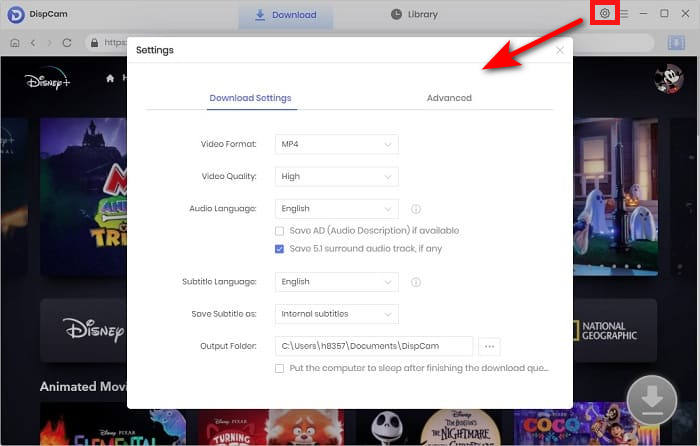 Step 4 Search for Disney Plus video by entering the name into the search bar. DispCam will find the video quickly.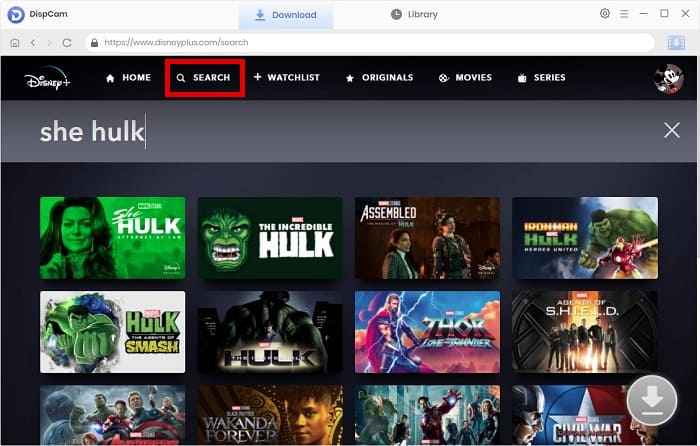 Step 5 Select the video that you want to download and then click the "Download" icon

. There is an advanced download option that allows you to select the specific video quality, audio tracks, and subtitles. For movies, just click the "Download" icon to oepn that window. For TV shows, after clicking the "Download" icon and picking up the episodes that you want to download from the pop-up window, the "Advanced Download" button will appear on the bottom of the window.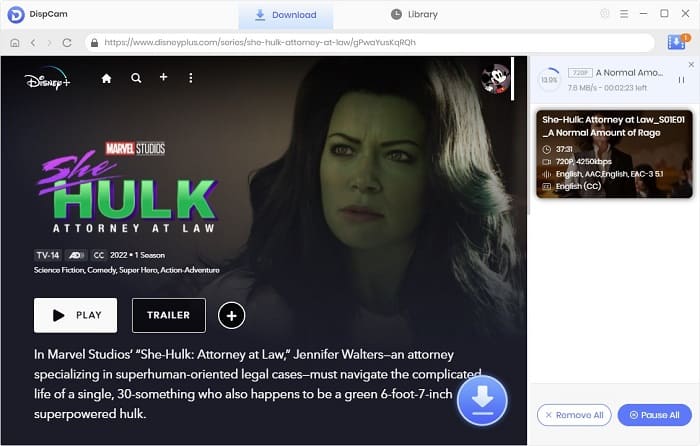 Step 6 Once the video is downloaded, go to the "Library" tab. Here you will find all videos you've downloaded.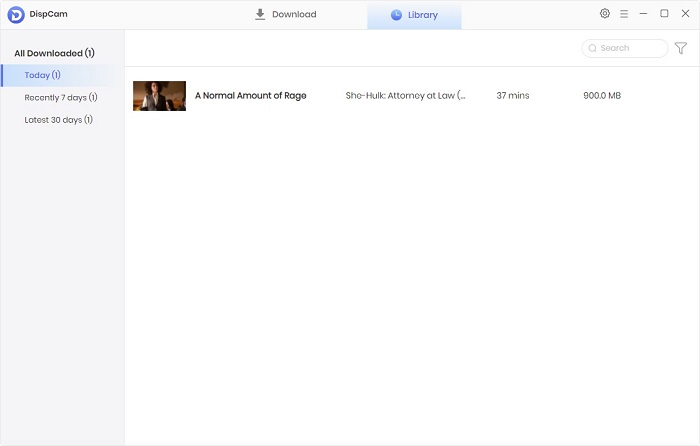 Conclusion
There is a no-brainer that Disney Plus is one of the most popular streaming services. It has had surpassed 116 million subscribers since launching in 2019. Not only does Disney Plus offer a massive library of movies and shows, but also the price of the service is much cheaper than other streaming services. Compared to Netflix, which has restrictions on the video quality depends on the subscription plans, Disney Plus provides 4K/HDR videos for each subscriber, no matter which subscription plan they paid for. And on the matter of offline viewing, Disney Plus has fewer limitations on downloading. Even if the download function is available on the mobile app only, DispCam can help you get Disney Plus downloaded on any device. In a word, Disney Plus is the best streaming service you can't miss.
Note: The free trial version of DispCam allows you to download the first five minutes of each video. To download the full video, you may need to subscribe to DispCam to unlock the limitation.