The 15 Best Christmas Movies and Shows to Watch on Disney Plus
Coming to the last month of the year, Christmas is the most anticipated holiday. People start decorating their home and Christmas trees, preparing Christmas gifts for family members and friends. Except for that, preparing some Christmas movies and shows for the holiday season is also an essential part of Christmas events. Christmas can be regarded as a carnival for streaming video services, some of the most popular streaming services will add new titles for the Christmas season every year. If you want to find some Christmas movies and shows, you are hard to find a better offering than on Disney Plus. There are dozens of holiday-themed movies and shows on Disney Plus. No matter if you want to watch some classics like The Santa Clause, The Muppet Christmas Carol, and Home Alone series, or the newest releases such as Hawkeye, you can always find what you want on Disney Plus to get you into the festive spirit.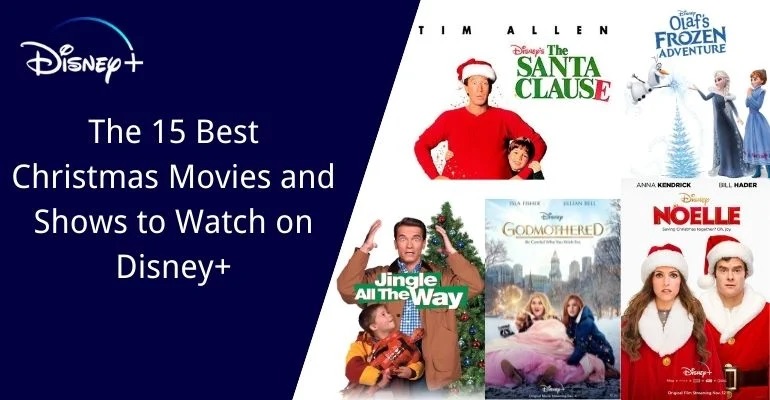 If you have no idea which movies or shows to watch this holiday season and don't want to spend more time looking for videos, we have done this for you. Here we compile the 15 best Christmas movies and TV shows on Disney Plus, including 12 Disney Plus Christmas movies and 3 TV shows for the holiday season.
Part 1: The 12 Best Disney Plus Christmas Movies:
1. The Santa Clause (1994)
Scott Calvin (Tim Allen) inadvertently becomes Santa Claus on Christmas Eve after the original accidentally falls off his roof. It is a series of comedy movies, including the Santa Clause, The Santa Clause 2, and The Santa Clause 3.
---
2. Jingle All the Way (1996)
A father vows to get his son a Turbo Man action figure for Christmas. However, every store is sold out of them, and he must travel all over town and compete with everybody else in order to find one. This movie is available on Disney+ on Friday 5th November 2021.
---
3. Good Luck Charlie, It's Christmas (2011)
Teddy Duncan and her mom Amy embark on an adventure to reunite with their family after being separated on their way to celebrate Christmas in Palm Springs.
---
4. Home Alone: The Holiday Heist (2012)
When 10-year-old Finn and his sister find themselves home alone over the holidays, they're besieged with a trio of bumbling criminals (led by Malcolm McDowell) trying to break into their new home! Luckily, Finn rigs up an elaborate array of techno-gadgets and booby traps to protect his pad.
---
5. Olaf's Frozen Adventure (2017)
This is a 22-minute Christmas special. The Frozen character Olaf, as the star of this film, finds that Elsa and Anna do not have any holiday traditions of their own. So Olaf sets out on a merry mission to bring home the very best traditions and save Christmas.
---
6. Noelle (2019)
This was Disney's first big, original holiday movie for Disney+. Santa's daughter, Noelle, is full of Christmas spirits and wishes she could do something important like her brother Nick, who will take over for their father this Christmas. When Nello finds her brother goes missing, she must find her brother and bring him back in time to save Christmas.
---
7. Godmothered (2020)
It follows a fairy godmother-in-training named Eleanor who lives in a magical realm known as the Motherland. In order to prove herself, she finds a letter from a ten-year-old girl named Mackenzie and journeys to Boston to help her. When Eleanor discovers that Mackenzie is now a stressed-out, overworked single mother in her 40s, she is determined to help Mackenzie find her happiness and prove that fairy godmothers are still valuable.
---
8. Soul (2020)
Joe Gardner (voice of Jamie Foxx) – a middle-school band teacher who gets the chance of a lifetime to play at the best jazz club in town. But he suffers an accident that leaves him hovering between life and death. Determined to return to his life, Joe teams up with a precocious soul, 22 (voice of Tina Fey), who has never understood the appeal of the human experience. As Joe desperately tries to show 22 what's great about living, he may just discover the answers to some of life's most important questions.
---
9. High School Musical: The Musical: The Holiday Special (2020)
The cast of High School Musical: The Musical: The Series (2019) shares anecdotes of memorable holidays from their childhoods, best presents, favorite traditions, family photos, and New Year's resolutions.
---
10. Home Sweet Home Alone (2021)
Ten-year-old Max gets left alone while his family goes on a trip. When a married couple (Rob Delaney and Ellie Kemper) tries to steal back a valuable heirloom from Max's home, it's up to him to fend off a pair of thieves. This movie is released on Disney Plus on November 12, 2021.
---
11. Christmas...Again?! (2021)
A high-spirited 11-year-old hoping to add more spunk to her Christmas celebrations when her parents' divorce is going anything but smoothly. Hoping to get things back to the way they were before her father's new girlfriend and her son entered the scene, she makes a wish to a small Santa. However, her Christmas wish goes awry as she finds herself living the same day over and over again. Stuck in this endless loop, she must learn to love her new blended family and learn the true meaning of Christmas.
---
12. LEGO Star Wars Holiday Special (2021)
Following the events of Star Wars: The Rise of Skywalker, Rey sets off on a new adventure with BB-8 to gain a deeper knowledge of the Force. At a mysterious Jedi Temple, she is hurled into a cross-timeline adventure through beloved moments in Star Wars cinematic history, coming into contact with Luke Skywalker, Darth Vader, Yoda, Obi-Wan Kenobi, and other iconic heroes and villains from all nine Skywalker saga films. But will she make it back in time for the Life Day feast and learn the true meaning of the holiday spirit?
---
Part 2: The 3 Best Disney Plus Christmas TV Shows:
1. Simpsons Season 32 (2020)
The beloved animated series focuses on the eponymous family in the town of Springfield in an unnamed U.S. state. The head of the Simpson family, Homer, is not a typical family man. A nuclear-plant employee, he does his best to lead his family but often finds that they are leading him. The family includes loving, blue-haired matriarch Marge, troublemaking son Bart, overachieving daughter Lisa and baby Maggie. Other Springfield residents include the family's religious neighbor, Ned Flanders, family physician Dr. Hibbert, Moe the bartender, and police chief Clancy Wiggum.
---
2. Hawkeye (2021)
It is an original new series set in post-blip New York City where former Avenger Clint Borton aka Hawkeye has a seemingly simple mission: get back to his family for Christmas. But when a threat from his past shows up, Hawkeye reluctantly teams up with Kate Bishop, a young skilled archer, and his biggest fan, to unravel a criminal conspiracy. This series is exclusively debuted on Disney Plus on November 24, 2021.
---
3. Welcome to Earth (2021)
A Disney+ original series from National Geographic follows two-time Academy Award® nominee Will Smith on an extraordinary, once-in-a-lifetime adventure around the world to explore Earth's greatest wonders and reveal its most hidden secrets.
---
Conclusion
You can find many Christmas movies and TV shows on Disney Plus, from older animated classics to more recent releases, to make your Christmas holiday fulfilling. The movies and shows that we pick out are the best titles that you cannot miss this holiday season. Additionally, it would be better to download those movies and shows to watch offline with family. Disney provides the download feature on the Disney+ app, which has no limits on the number of titles that you can download at a time, but it restricts you to download and watch the downloaded videos on mobile devices only. To watch Christmas videos with family on a big screen, there is a powerful tool called DispCam that can help you download the Disney Plus movies and shows to Windows PC or Mac and watch the downloads offline on any device.
What's DispCam?
A professional tool that can help you download movies and TV shows from Disney+, and enjoy the content offline at any time.

Learn more about DispCam >>
DispCam is a handy tool dedicated to downloading movies and TV shows from Disney Plus without installing the Disney Plus app. It has the ability to download Disney Plus videos in MP4 or MKV format so that you can save the downloaded videos on multiple devices to watch offline. Plus, it supports batch downloads that allows you to download all episodes of a TV show with one click. If the videos are provided in different languages, DispCam can also help you get multi-language audio tracks and subtitles and allows you to save the subtitles file in different modes. In a word, with the help of DispCam, you can download unlimited Disney Plus movies and TV shows to watch offline on any device.
Get ready to cover your home with festival decorates and sit down and binge some Christmas videos? Take this Christmas titles list and enjoy your holiday!
Note: The free trial version of DispCam allows you to download the first five minutes of each video. To download the full video, you may need to subscribe to DispCam to unlock the limitation.
Of course, in addition to Christmas movies and shows, you can also watch some home videos and bring back good times together with your family. Since the display resolution of the screens continues to improve, some of the old videos that were taken in standard definition (SD) may look unclear and lose most of the details. To have a better viewing experience, we recommend you try a Video Enhancer AI to improve the resolution of these old videos. By applying the AI technology, this Video Enhancer AI can help you upscale your old videos with low resolution to higher resolution, from SD to HD, HD to 4K, or 8K.
A powerful video enhancer that can improve the video quality from SD to HD, HD to 4K, or 8K.

Learn more about Video Enhancer AI >>