How to Transfer Disney+ Downloads between Devices?
Disney Plus allows you to stream tons of movies and TV shows offline on your Android or iOS device. There is, however, a download limit of ten supported devices per Disney Plus movie or episode. And you can't transfer the downloads from one device to another device as they are encrypted by Disney+. Some of you might be wondering: is it okay to download the Disney+ content once and transfer them to other devices instead of downloading the same content every single time you use a new device?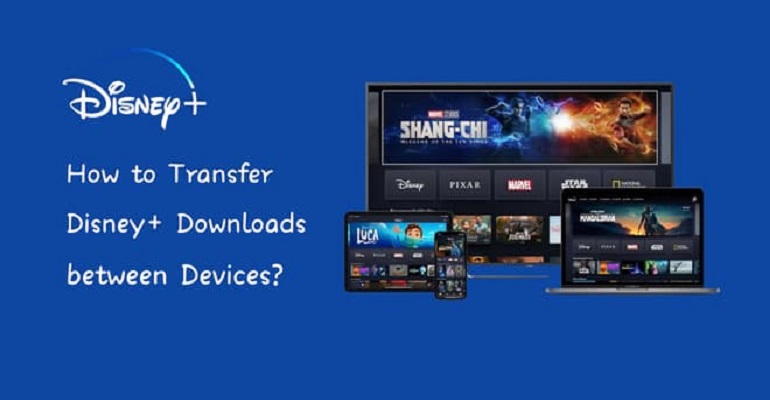 When you turn to Disney+ Help, you will find nothing positive. Disney+ sets rules this way, and there is nothing you can do to change it. But cheer up, my dear friends. You are so lucky to be here reading this article. Here we bring a powerful tool for you and others who are concern about how to shake off the limit and transfer Disney Plus downloads between devices. That is DispCam, a reliable downloader that can help you save Disney+ videos to any devices. Now let's get started.
Download Content with DispCam?
DispCam is a professional Disney+ video downloader that can download Disney Plus content in MP4 or MKV format. You don't even have to install the Disney Plus app if the storage of your device is not enough. Most importantly, you can download any Disney+ content to your computer and move the downloaded videos to any other device. Plus, it is capable of saving audio tracks and subtitles in many languages and downloading videos with different resolutions.
Moreover, DispCam has a concise interface, which is very easy to use for everyone. You can get Disney Plus videos with just a few simple steps. Furthermore, DispCam shortens the download time to around 20 minutes, which is by far one of its most outstanding features. Once the videos are downloaded by DispCam, they will never be expired.
A professional tool that can help you download movies and TV shows from Disney+, and enjoy the content offline at any time.

Learn more about DispCam >>
Guide: Download Disney+ Content and Transfer Them to Other Devices
Before diving into the secret, please make sure you have downloaded and installed the newest version of DispCam.
Step 1. Sign in with Your Disney Plus Account
Please run DispCam first, then type any word in the search bar, and then press the "Enter" button on the keyboard. The sign-in window will pop up automatically, and please enter your Disney+ account to get you involved in the service.
Note: Here you can also directly key in the name of the video you want to download.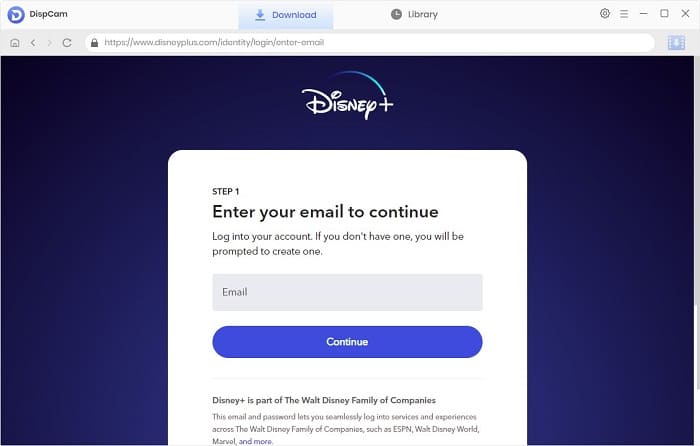 Step 2. Choose the Output Settings
Before downloading, you are allowed to personalize the output settings. Please click the "Settings" icon in the upper right corner. The settings window will appear, where you can choose the video quality, video format, audio and subtitle languages, and the output path based on your personal needs.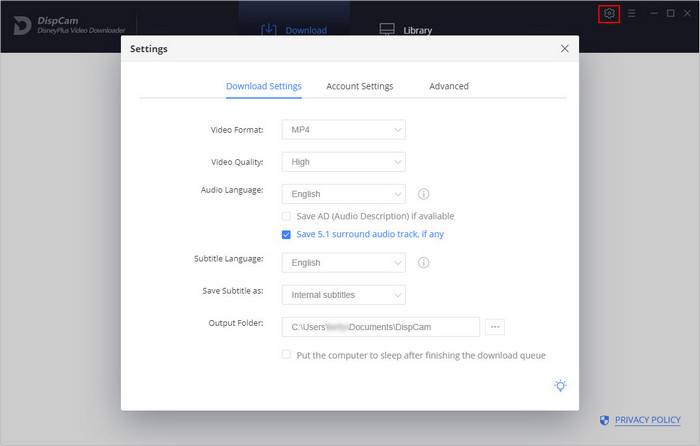 Step 3. Search for the Wanted Disney Plus Video
If you entered random words before, now you need to enter the keyword of the video that you want to download or copy and paste the video's link from the Disney+ web player to the search bar. Search results will be displayed below the search box.
If you directly keyed in the keyword of the wanted video before, all the related content will be directly listed once you log in to your Disney+ account successfully.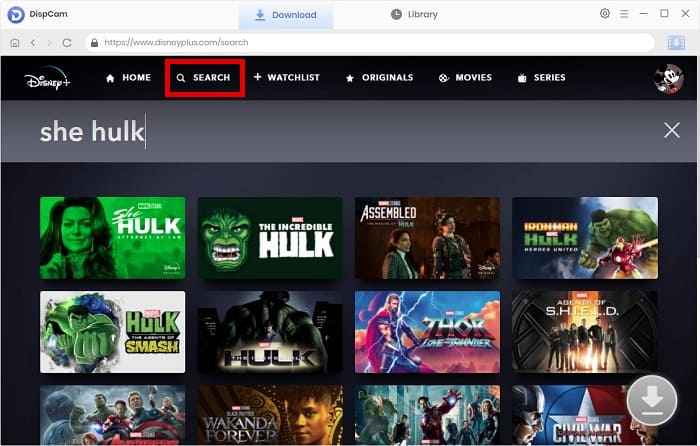 Step 4. Customize the Configuration of the Output Video
If what you want to download is a movie, please click the icon next to the "Download" icon and select the video quality, audio tracks, and subtitles according to different parameters accordingly. Here you can choose more audio tracks and subtitles as your need. If it is a TV show, click the "Download" icon and select season and titles, then click the "Advanced Download" button, you will see the following settings window as well.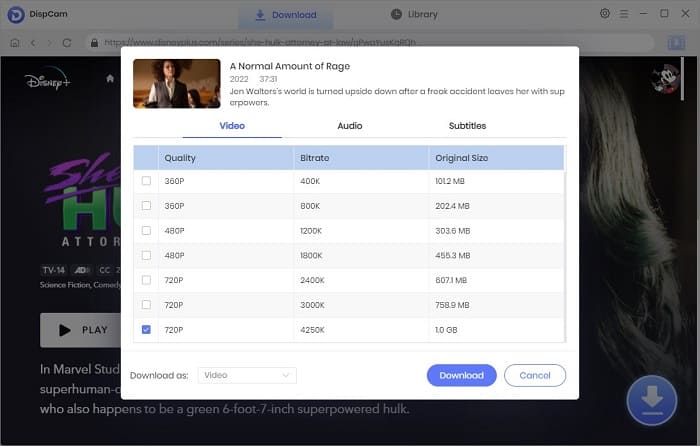 Step 5. Download Disney Plus Video to Your Computer
Please click the "Download" button, DispCam will start downloading the selected video for you. And you can see the download process on the right side of the program. After downloading, you can find the downloaded video in the "Library" tab. You can also locate where the downloads are stored on your computer by clicking the folder icon.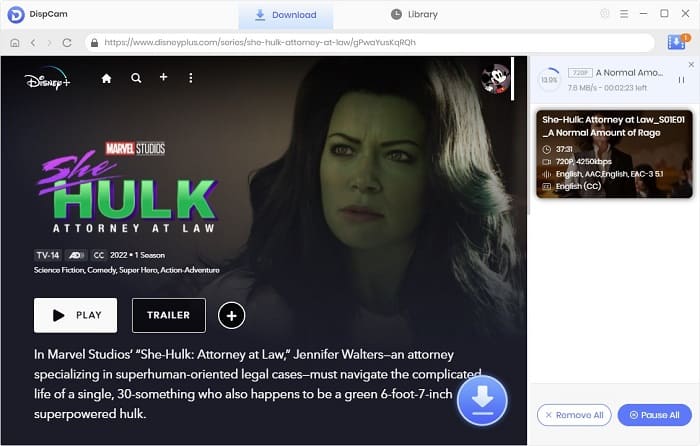 Step 6. Transfer the Downloaded Video to Other Devices
Please open the output folder where you save the downloaded Disney Plus videos on your computer, then connect the device to your computer. Now you just need to copy and paste the videos from your computer to another device of yours.
Conclusion
Though Disney Plus doesn't allow you to transfer the downloads between devices, DispCam can free you from that limit. If you have the need to watch Disney Plus content on different devices, DispCam will be your best choice, no matter whether your problem is that there is not enough storage space on your device or you don't know how to transfer the Disney+ movies to your best friends and families. Don't hesitate! It's time to use DispCam to save more Disney Plus movies and TV shows on your computer, USB, or other portable devices because all videos downloaded by DispCam will never expire! And you deserve something better.
Note: The free trial version of DispCam allows you to download the first five minutes of each video. To download the full video, you may need to subscribe to DispCam to unlock the limitation.
---