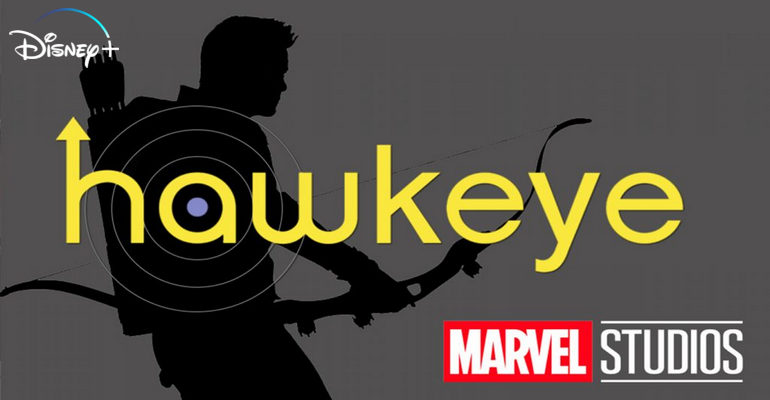 How to Stream "Hawkeye" from Disney Plus?
Following "WandaVision," "The Falcon and the Winter Soldier," "Loki," and "What If...?", Marvel Studios released a new show "Hawkeye", for the coming holiday season of this year. This is an original new series set in post-blip New York City where former Avenger Clint Barton aka Hawkeye is planning to go back to his family for Christmas. When Clint sees the Ronin suit on the news, he's forced to leave his family to figure out what's going on. He team up with a young skilled archer, and his biggest fan, called Kate Bishop, to unravel a criminal conspiracy.
This six-episode series is exclusively debuted on Disney Plus on November 24. The first two episodes are now available to watch on Disney Plus and subsequent episodes will launch each week on Wednesday. To watch "Hawkeye", you will need to subscribe to Disney Plus. Paying for $7.99 per month or $79.99 per year, you can watch the series from the Disney Plus app, or directly stream it from the web browser. In addition to Marvel movies and shows, you can also have access to a massive library consisting of Disney, Star Wars, Pixar, and National Geographic.
Disney Plus has rolled out in North America, Europe, and parts of Asia and Latin America, it is easy to use Disney Plus to watch "Hawkeye" in those regions. Tap the Disney Plus app on your phone and log in to your Disney Plus account, then find the title and click the Play icon to watch the video. You can also download the videos to watch offline. The app for Android or iOS version has a download function that allows you to save the videos on your mobile devices. All downloaded videos are only available on the Disney Plus app. If you want to play the videos in your car or share them with your friends, there is another way to download Disney Plus videos for you. By using a video downloading tool, you can save any Disney Plus video in MP4 format so that you can watch them on any device.
What's DispCam?
A professional tool that can help you download movies and TV shows from Disney+, and enjoy the content offline at any time.

Learn more about DispCam >>
Here is a program, called DispCam, that can help you get high-quality movies and TV shows from Disney Plus without the app installed. If you want to save multi-language audio and subtitles, you can't miss this program as it offers the option to download audio tracks and subtitles in many languages that are available on Disney Plus. Plus, it can download Disney Plus videos in MP4 or MKV format, meaning that you can save Hawkeye and your favorite videos to the computer and play the downloads on multiple devices. The following part will show you how to use this powerful tool to download "Hawkeye".
Steps on Downloading "Hawkeye" with DispCam
Step 1. Sign into Disney Plus
Install and launch DispCam on your computer, enter some words into the search bar, you will be asked to sign in with your Disney Plus account.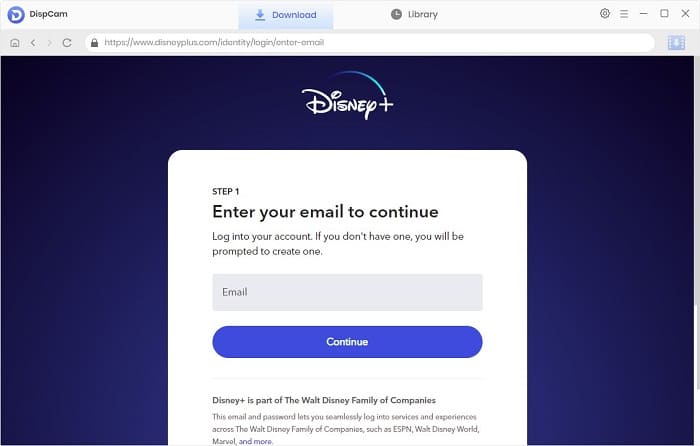 Step 2. Choose the Output Settings
Click the Settings icon to choose the output format, video quality, the language of audio and subtitles, the way of saving subtitles file, and the output path.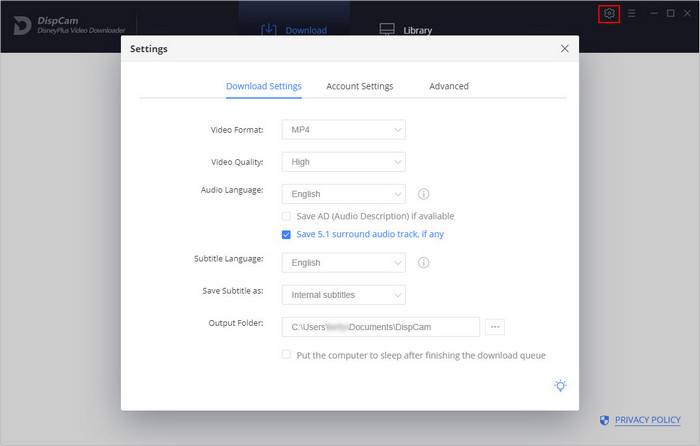 Step 3. Find "Hawkeye" on DispCam
Enter the name "Hawkeye" or enter the video's link copied from the Disney Plus web player. DispCam will find the content quickly.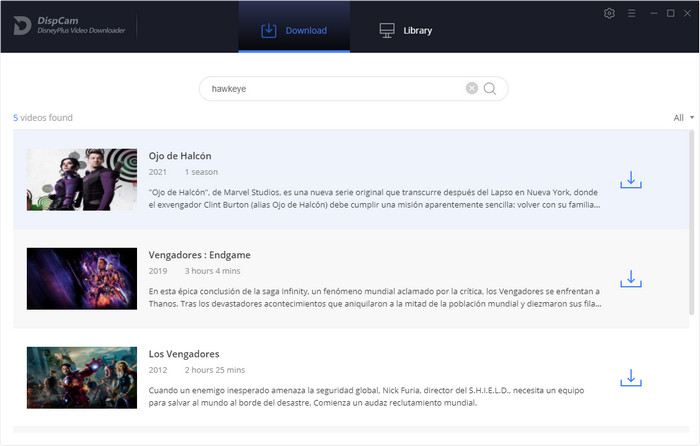 Step 4. Choose the Advanced Settings
Click the Download icon and choose the title that you want to download from the pop-up window, then click the "Advanced Download" button on the bottom left of the window. Here you can reselect the video quality, audio tracks, and subtitles.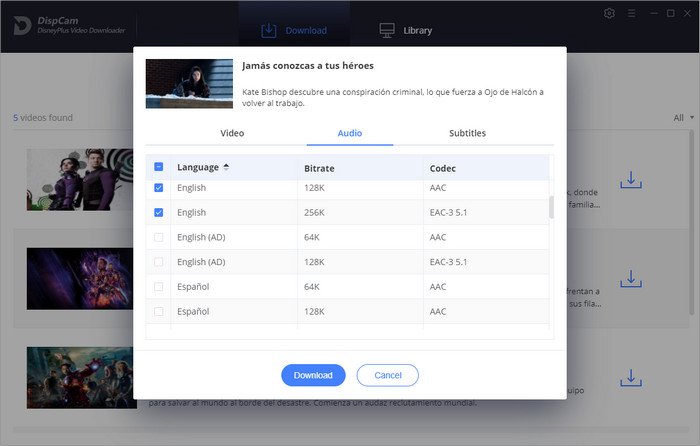 Step 5. Start Downloading the Video
Click the Download button, the selected videos will be added to the download queue. Now you just need to wait for the downloads. Once downloaded, click the Library tab, you will see all download videos.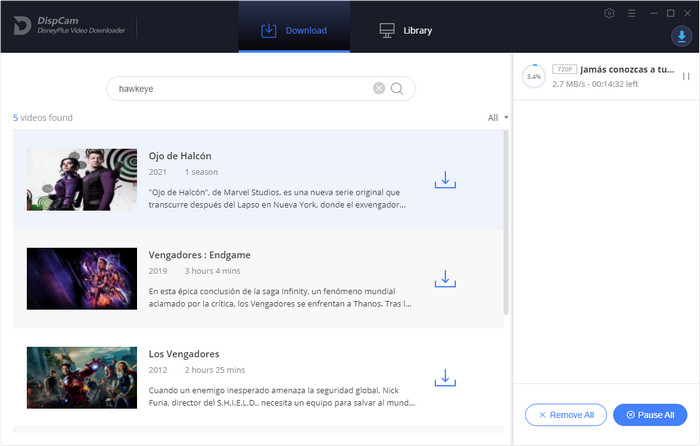 Conclusion
Marvel Studios "Hawkeye" is only available to watch on Disney Plus. If you subscribe to the service, it is easy to stream "Hawkeye" from Disney Plus via the app or from the web browser. In order to watch the series anywhere, this article introduces a powerful tool - DispCam that can download any video from Disney Plus so that you can watch the title on any device.
Note: The free trial version of DispCam allows you to download the first five minutes of each video. To download the full video, you may need to subscribe to DispCam to unlock the limitation.
---